Over the last few months, we have celebrated the architecture and interiors of Houston's historic homes. We reveled in the revival architecture of Westmoreland, West Eleventh Place, and Shadow Lawn. Victorian mansions and Craftsman bungalows made an appearance in Part II of our Historic Homes of Houston series. Our team also reflected on the iconic early, mid, and postmodern architecture that dots Houston's diverse skyline. With many of our readers embarking on summer vacations across the US and abroad, we wanted to shine a light on the many historic Houston hotels worthy of a staycation. In this post, we round up six of our favorite historic Houston hotels. From the century-old Lancaster Hotel to La Colombe d'Or, these historic hotels deserve attention from travelers and locals alike!
Historic Houston Hotels with Incredible Architecture & Interiors
#1 The Lancaster Hotel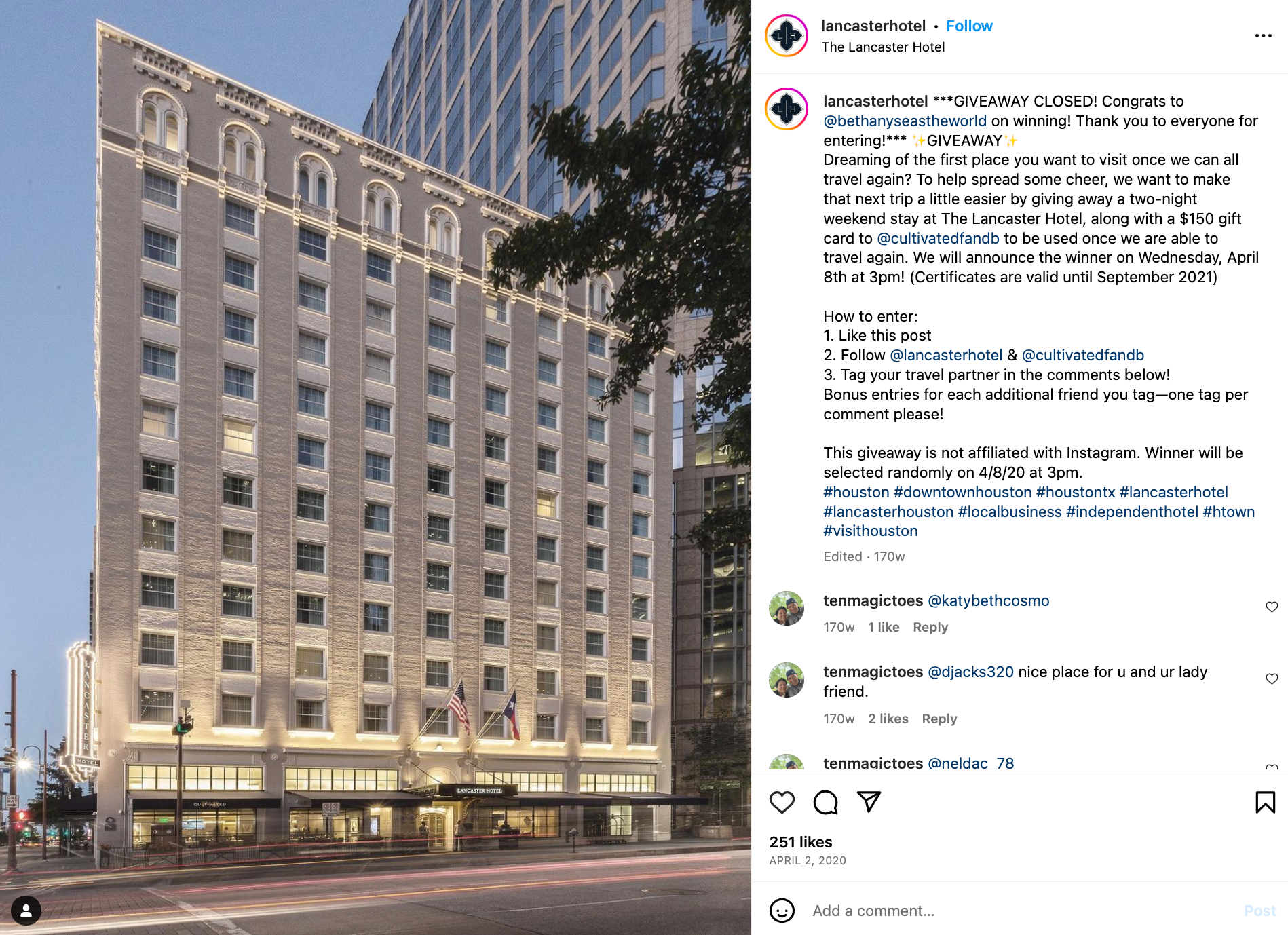 Nestled in the heart of downtown Houston, the Lancaster Hotel stands as a testament to the city's rich history and captivating architecture. Originally called the Auditorium Hotel, this historic gem has enthralled and enchanted visitors since its early days. In the 1980s, it was dubbed a Recorded Texas Historic Landmark. In recent months, The Lancaster was nominated for the Conde Nast Traveler 2023 Readers' Choice Award and the 2022 Travel + Leisure's World's Best Awards.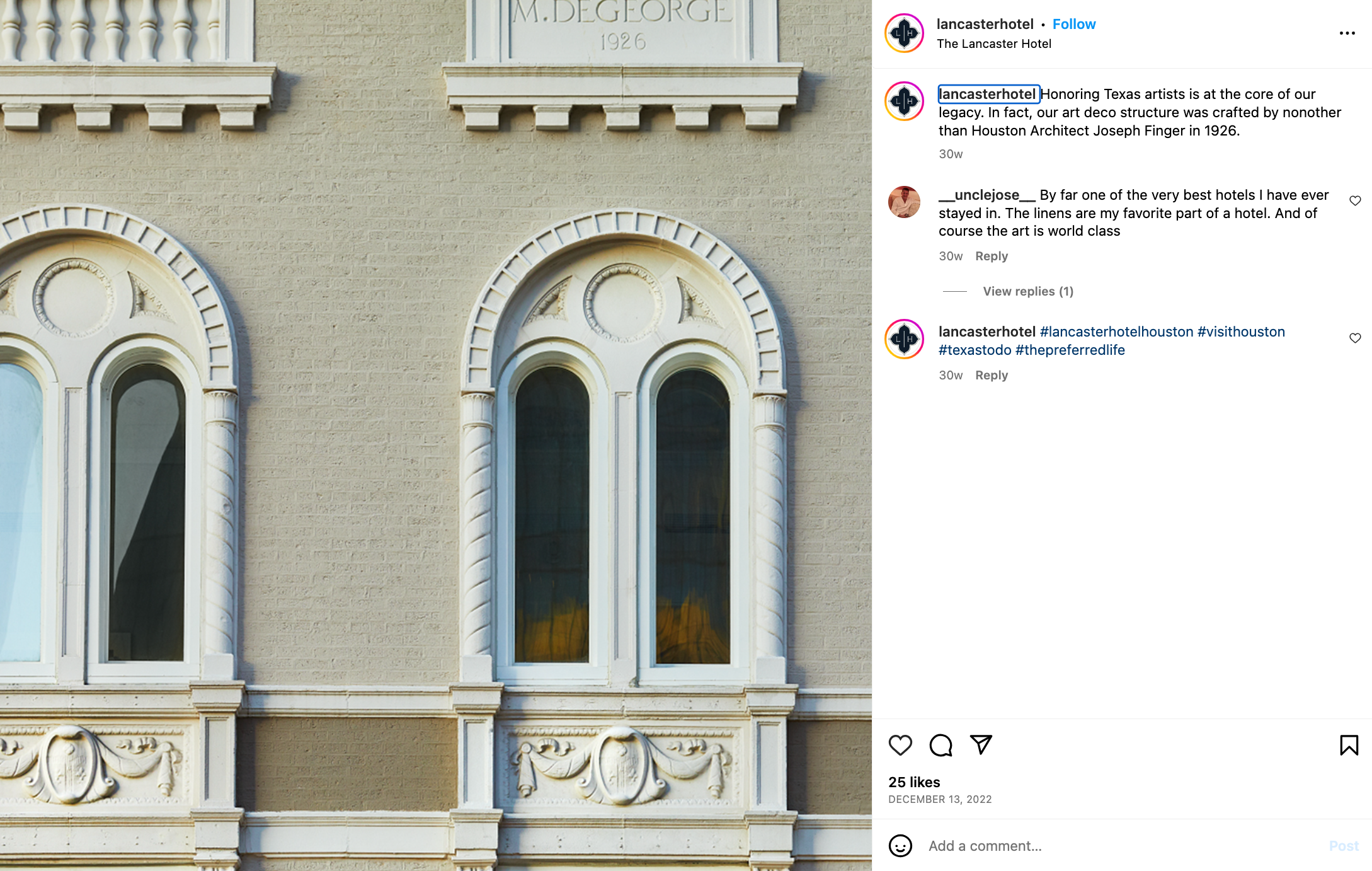 Brought to life by Michele DeGeorge and Joseph Finger in 1926, the Lancaster Hotel has hosted Golden Age movie stars, artists, and many other creatives over the last century. The building's facade was actually a backdrop for several films. To today's guests, this historic Houston hotel offers Art Deco architecture, Regency interiors, and a diverse art collection.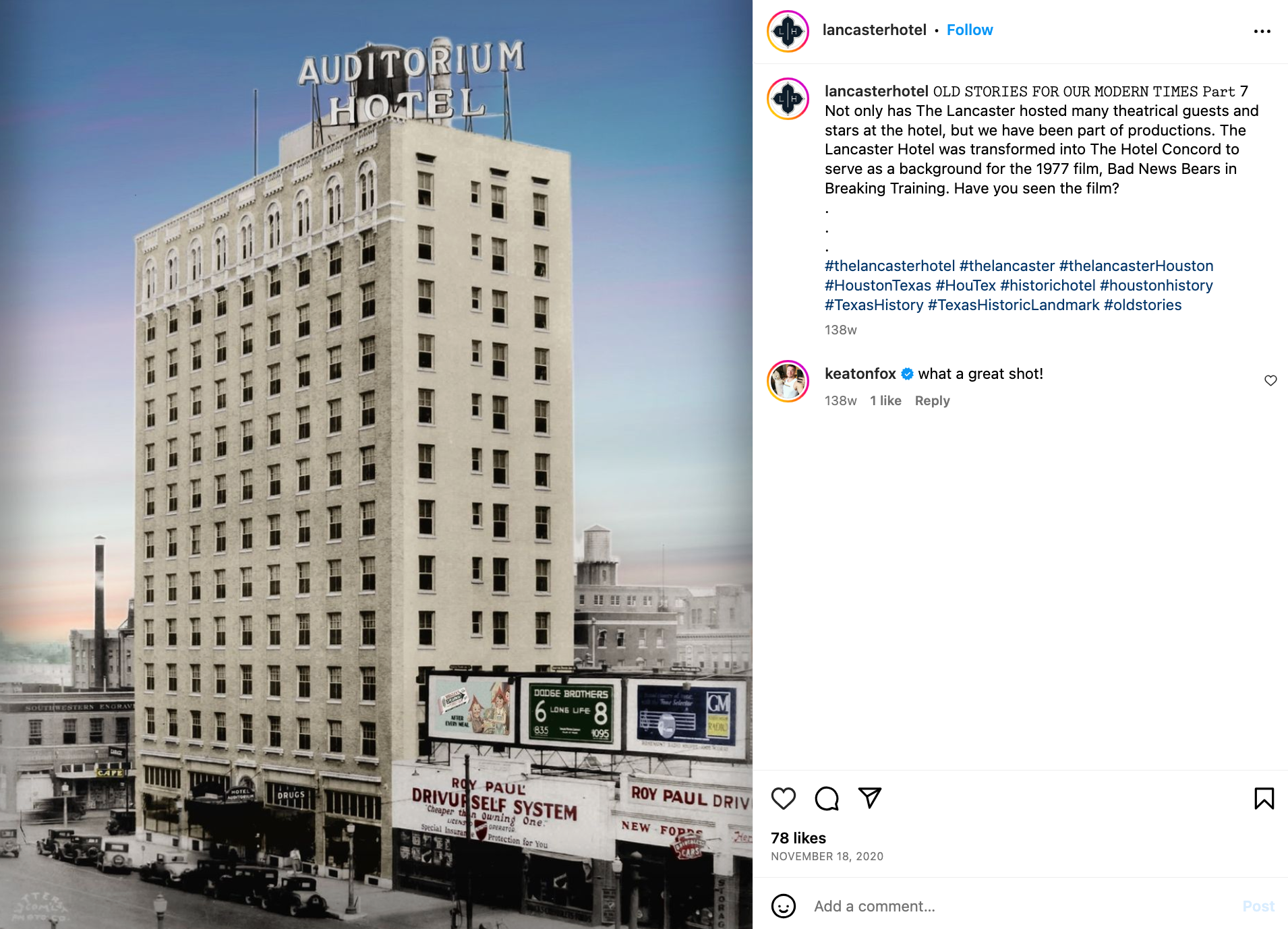 As guests step into the grand lobby of the Lancaster Hotel, they are transported back in time to an era of sophistication and refinement. The interior showcases intricate details and luxurious furnishings that whisper "timeless elegance." From the exquisite chandeliers hanging from the ceiling to the plush carpets underfoot, every element has been carefully curated to embody the opulence and grandeur of early 20th-century Texas.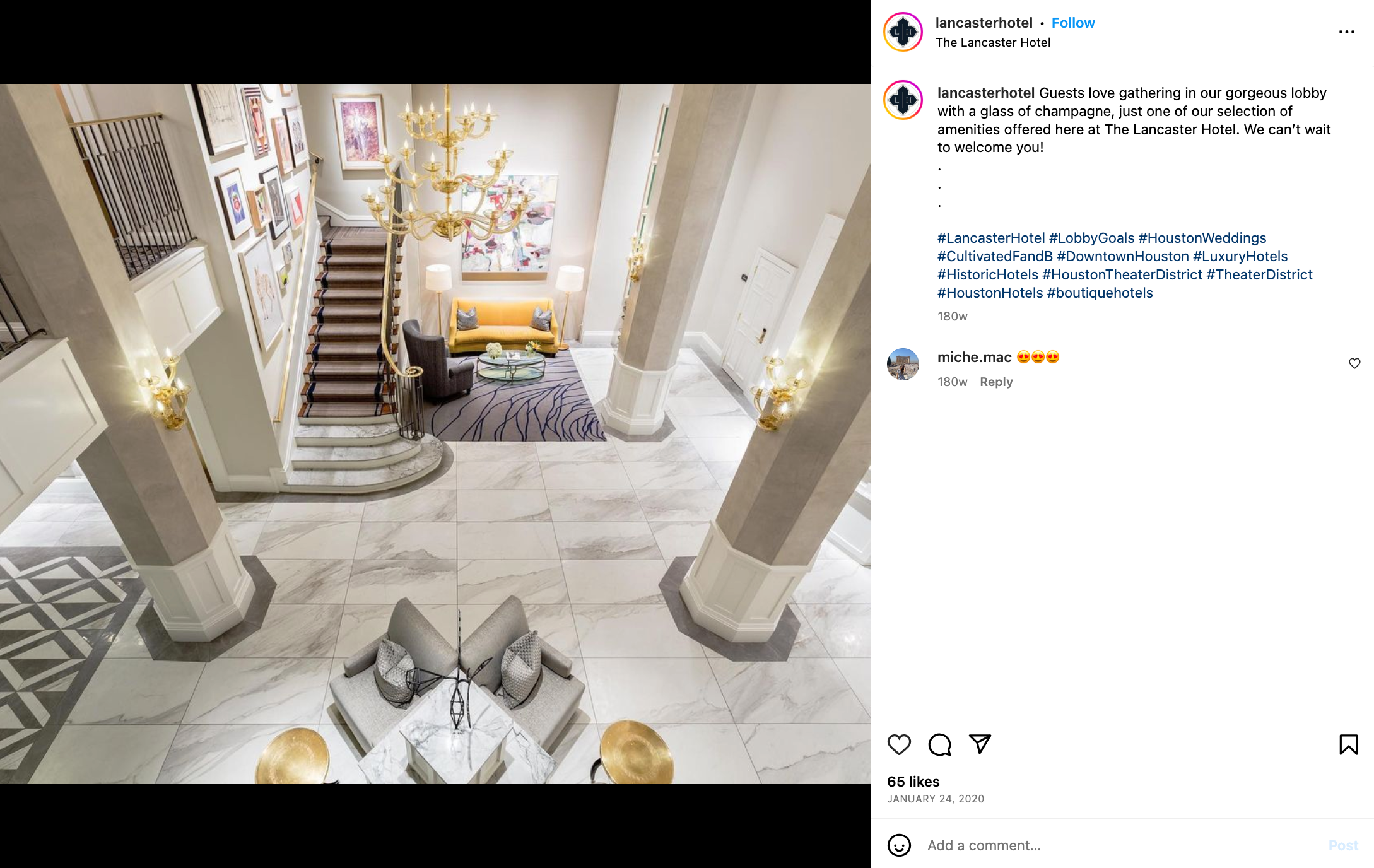 Unfortunately, the hotel was damaged during Hurricane Harvey. Thankfully, artist Jay Shinn funded a wide-ranging renovation of this historic hotel. According to Molly Glentzer and Melissa Aguilar in an article for The Chronicle, Shinn not only renovated the iconic hotel. He also Shinn "filled every space…with works from his collection, a veritable who's who of Texas modern and contemporary artists."
Learn more about The Lancaster's architecture, interiors, art collection, and exceptional service here. If planning to visit, The Lancaster abuts Minute Maid Park in Houston's Theater District.
#2 The Warwick Hotel (now Hotel ZaZa)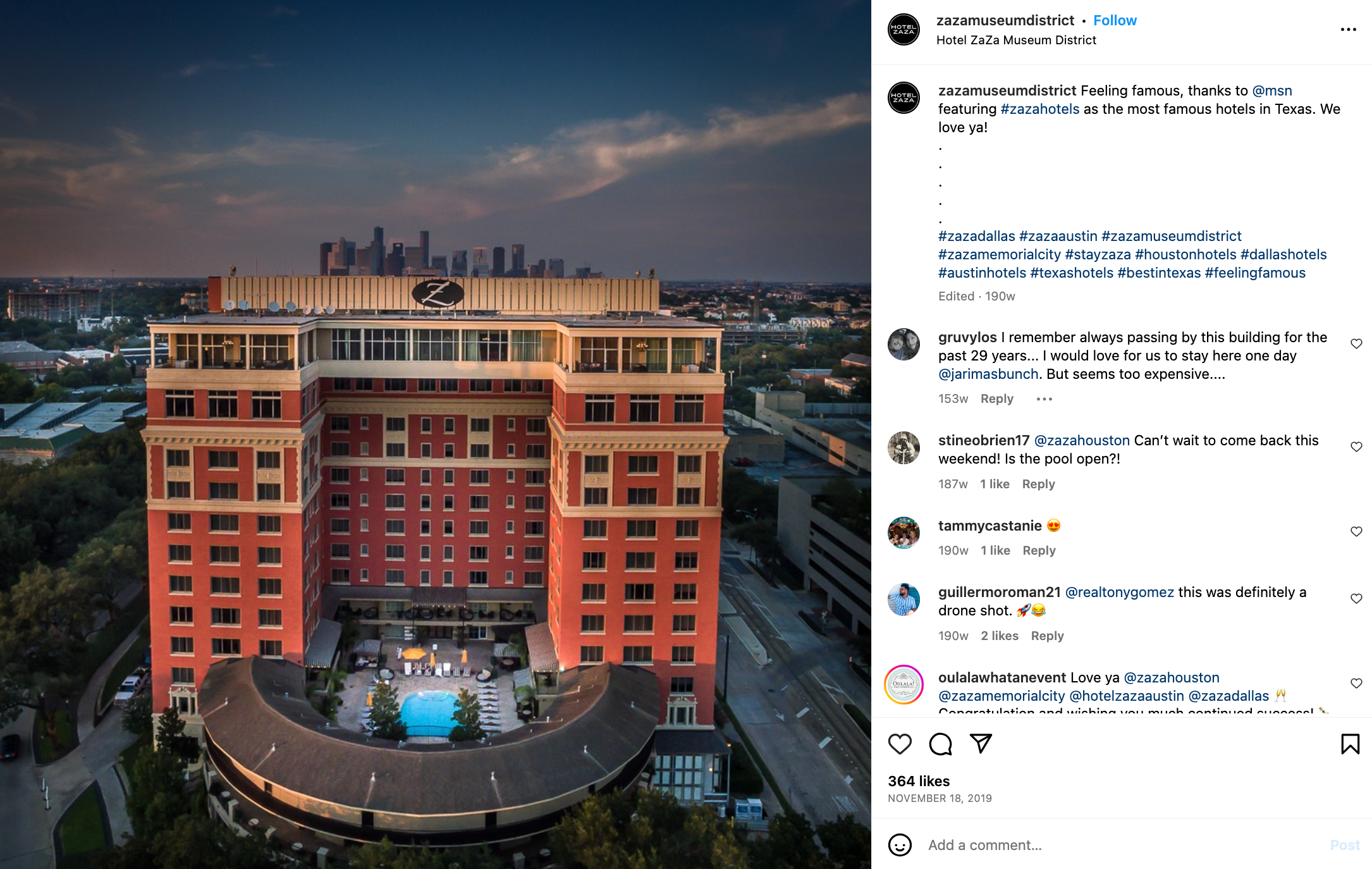 Now a boutique 4-star hotel in Houston's Museum District, Hotel ZaZa welcomed guests for the first time in 1926 as The Warwick Hotel. With its Georgian architecture, expansive grounds, and updated interiors, Hotel ZaZa has been renovated several times since it opened nearly a hundred years ago. According to this resource from Visit Houston, Bob Hope once described Hotel Warwick's views of the city and Houston's 400-acre Hermann Park as "'the most beautiful [he had] ever seen…just like Paris.'"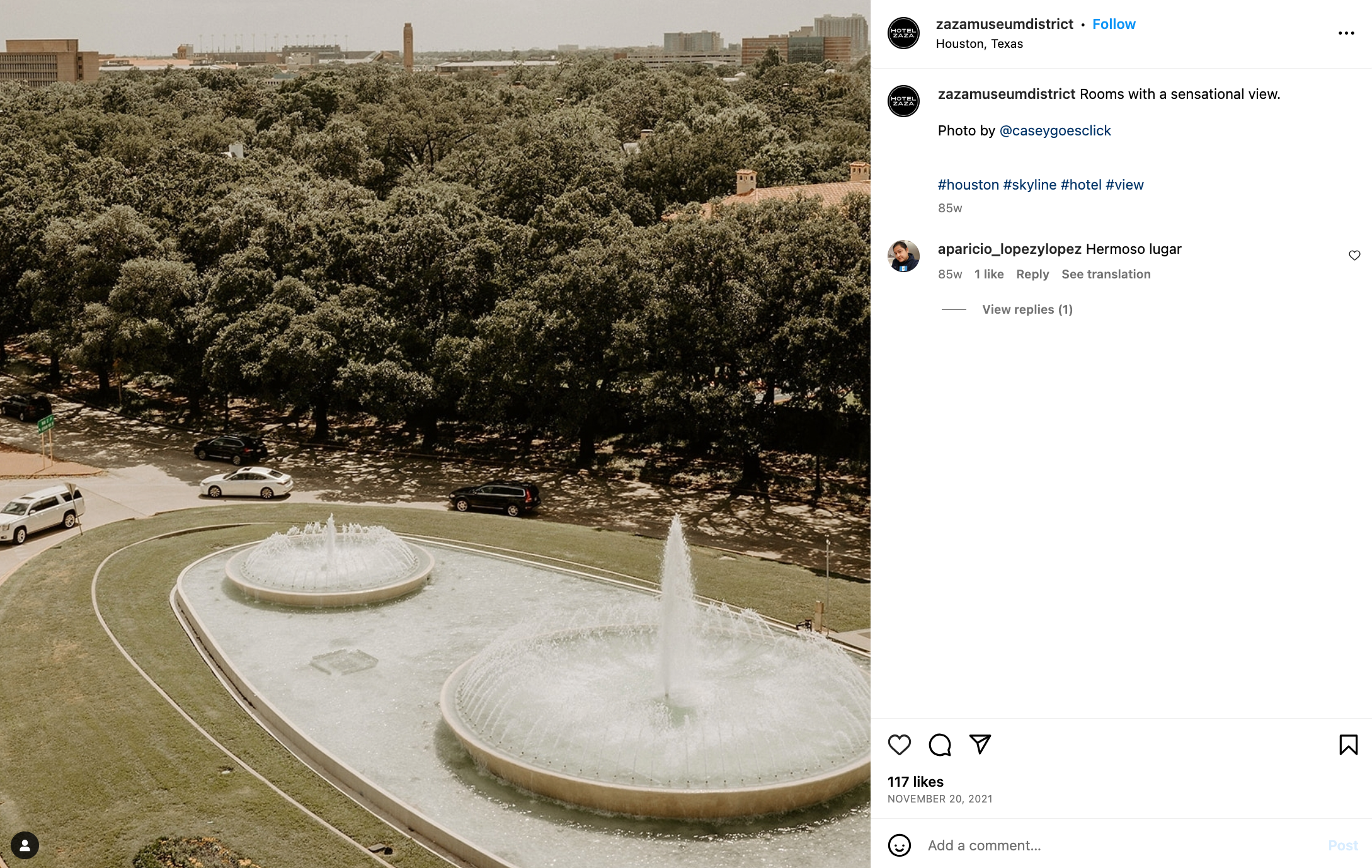 In addition to providing exceptional service and offering fine dining, Hotel ZaZa also boasts a variety of themed rooms, intriguing art, and a gorgeous tree-lined pool area. According to award-winning travel blogger Valerie Wheatley in a post on her site, the hotel's interior is "eccentric" and "funky." A short jaunt from the Houston Museum of Fine Arts, Hotel ZaZa is "the perfect pick for art enthusiasts" and those who enjoy unique hospitality experiences.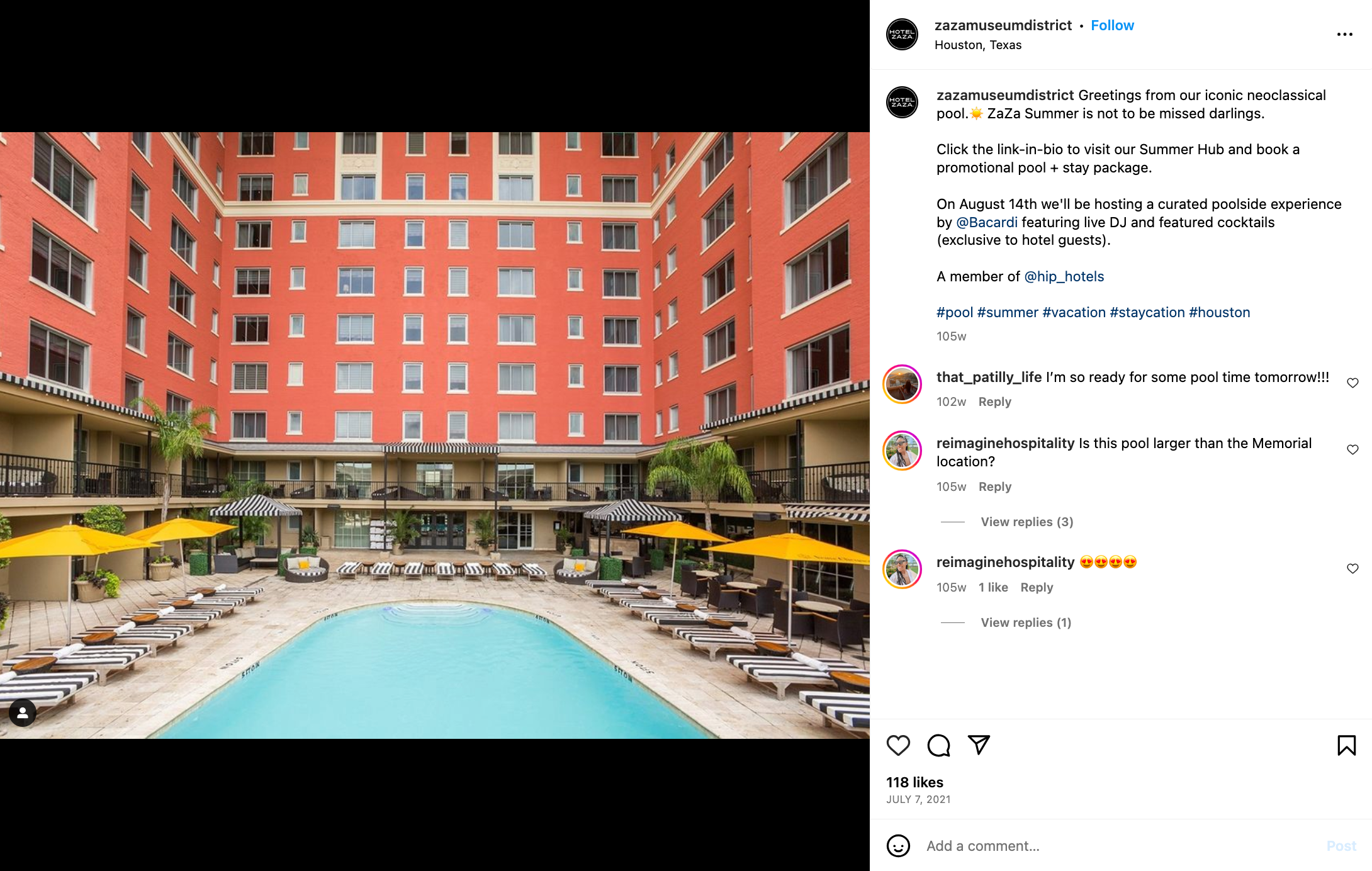 Learn more about Hotel ZaZa here, and view archival footage of the hotel from 1962 here.
#3 Hotel ICON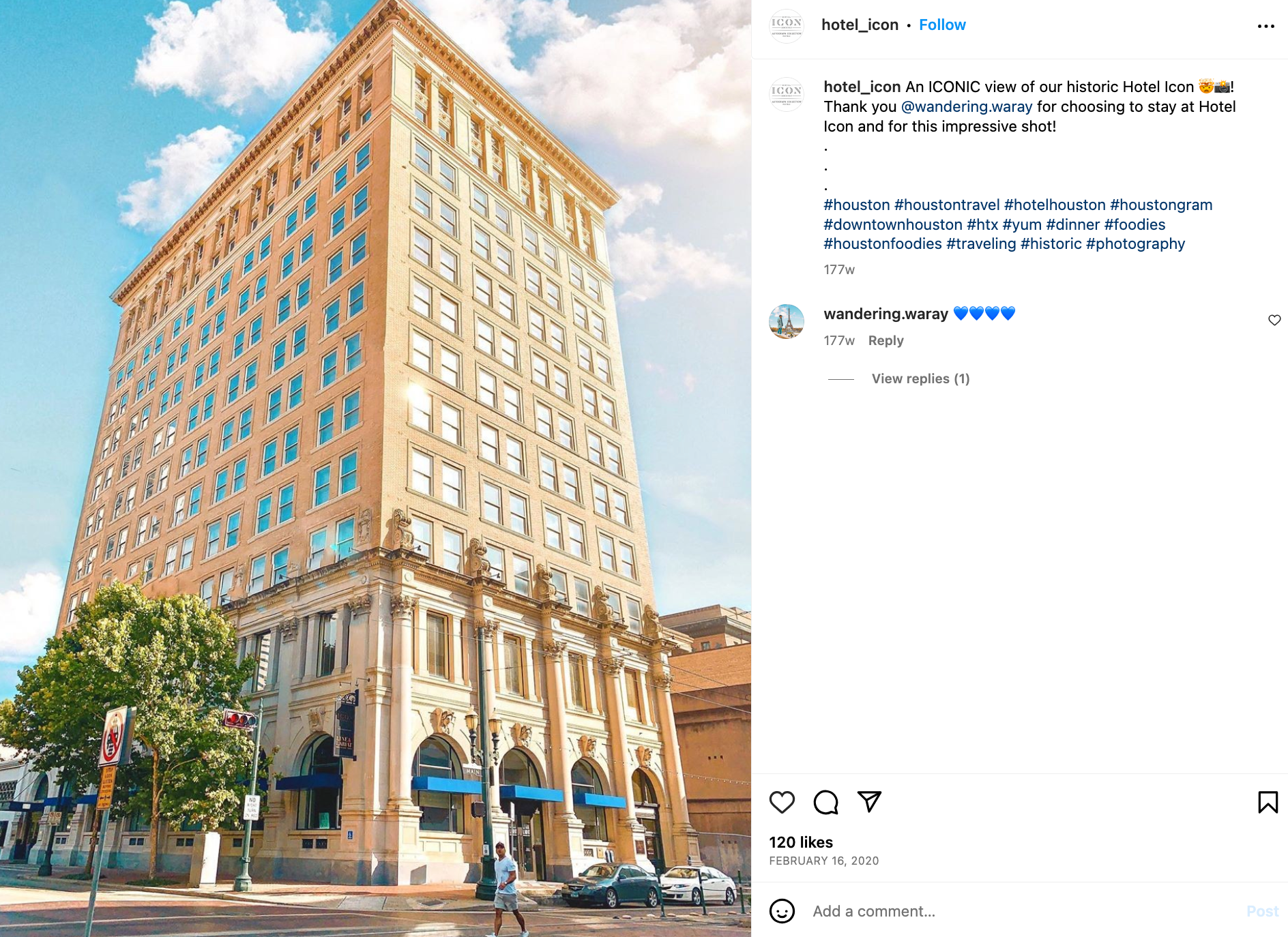 A soaring skyscraper designed by Mauran, Russell & Crowell, Hotel ICON was originally built as the home of Union National Bank way back in 1911. The famed architectural firm completed a number of other projects across Texas — including the Rice Hotel in Houston and the Galvez Hotel in Galveston.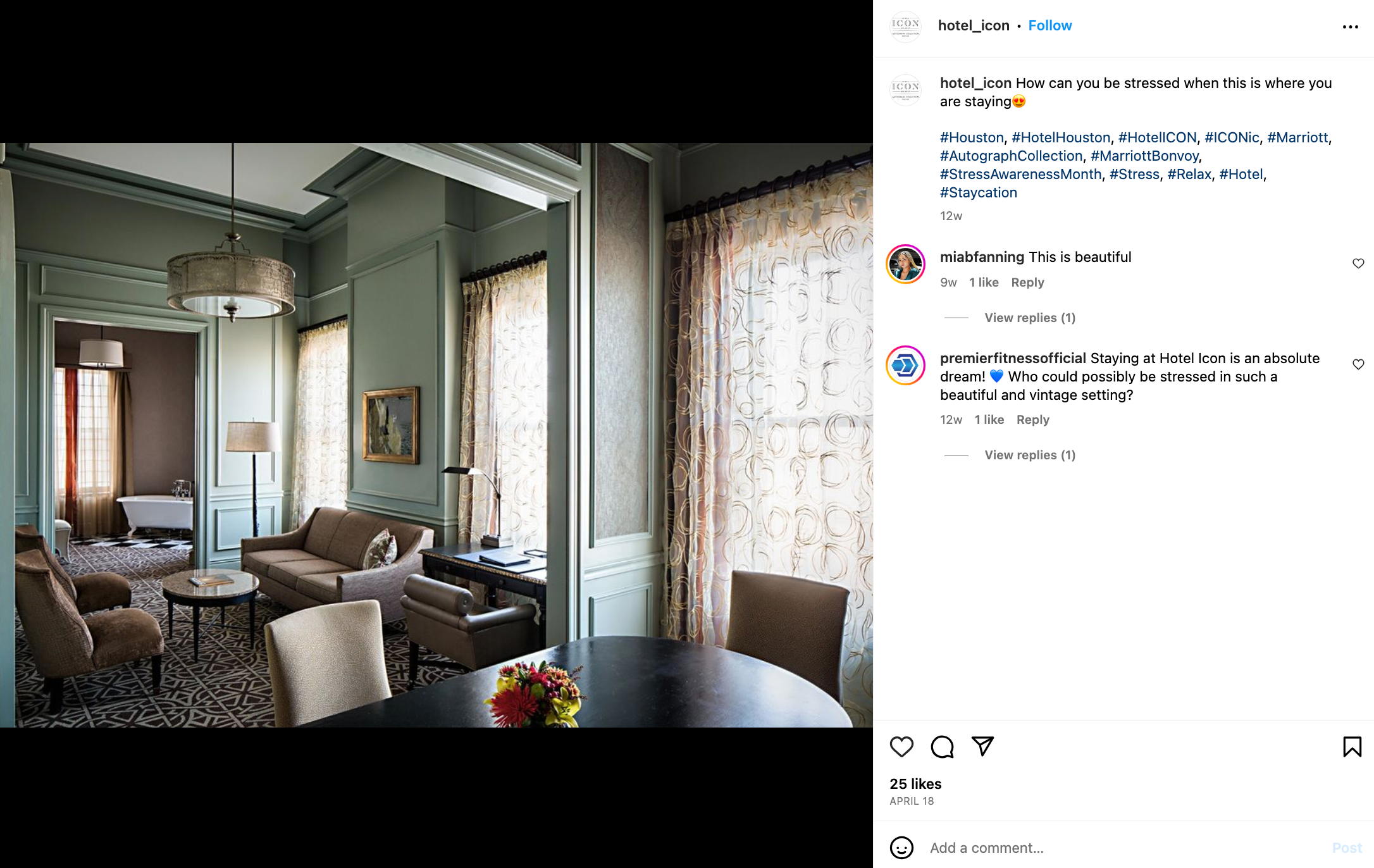 Today, Hotel ICON is still celebrated for its beautifully preserved Neoclassical architecture. As noted in this post on the Journal, Neoclassical design prizes symmetry, simplicity, and sophistication. It boasts soaring columns, grand entryways, and entire walls of windows.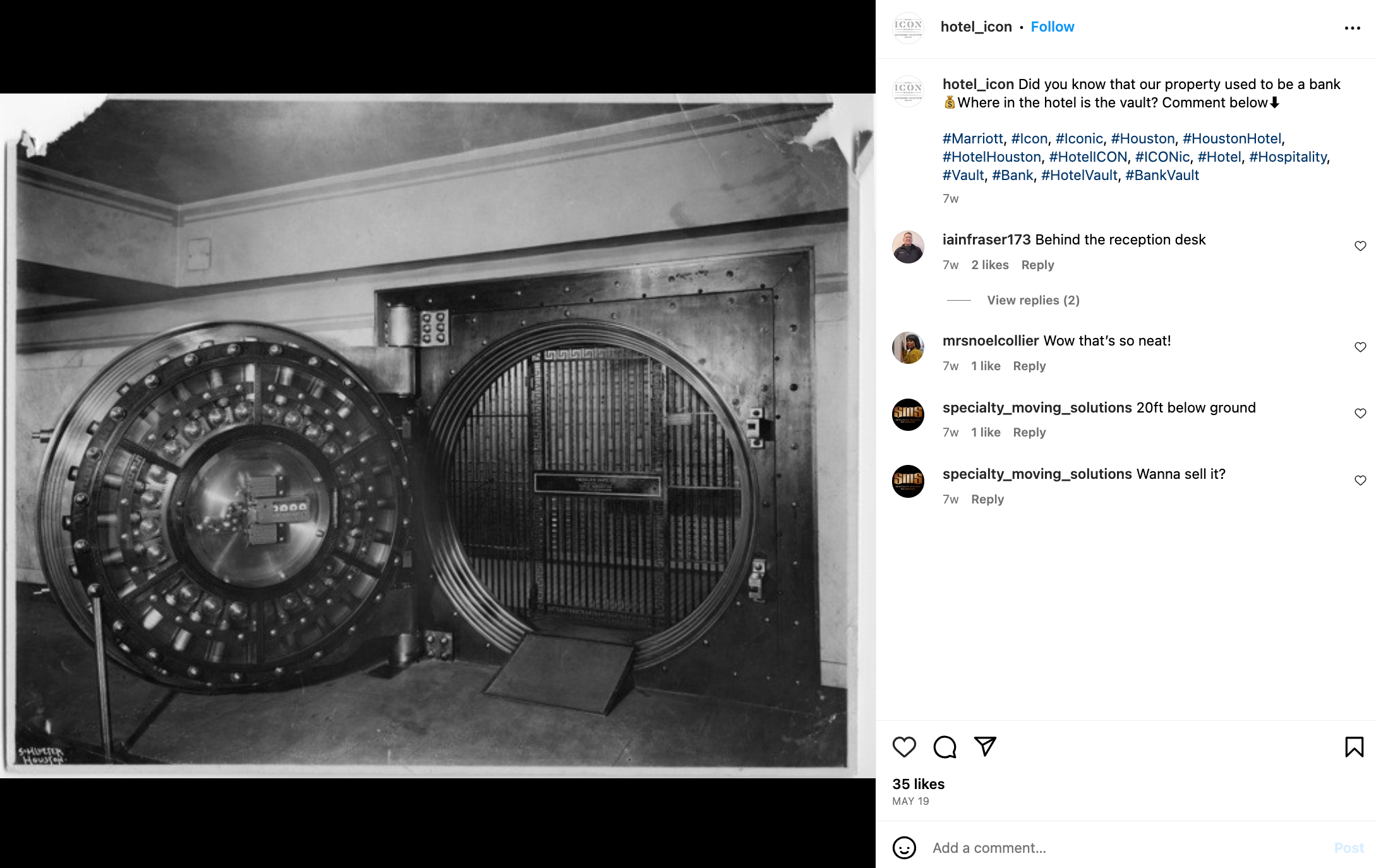 Though was remodeled in the 2000s to reflect a more contemporary sensibility, Union National Bank's original vault remains. The architectural firm that remodeled Hotel ICON also retained original millwork, selected period-appropriate color palettes, and commissioned custom furniture.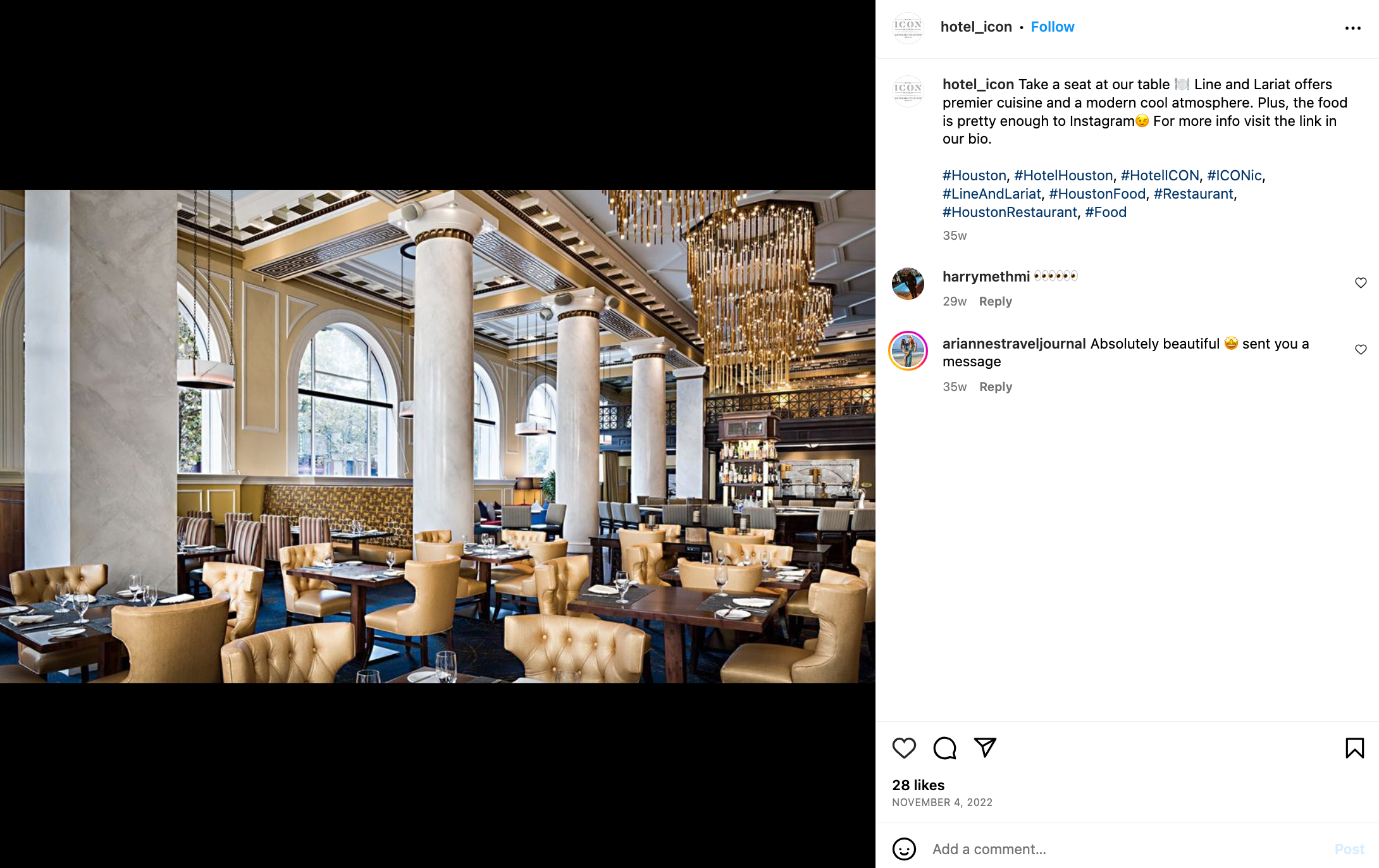 Learn more about Hotel ICON here.
#4 The Sam Houston Hotel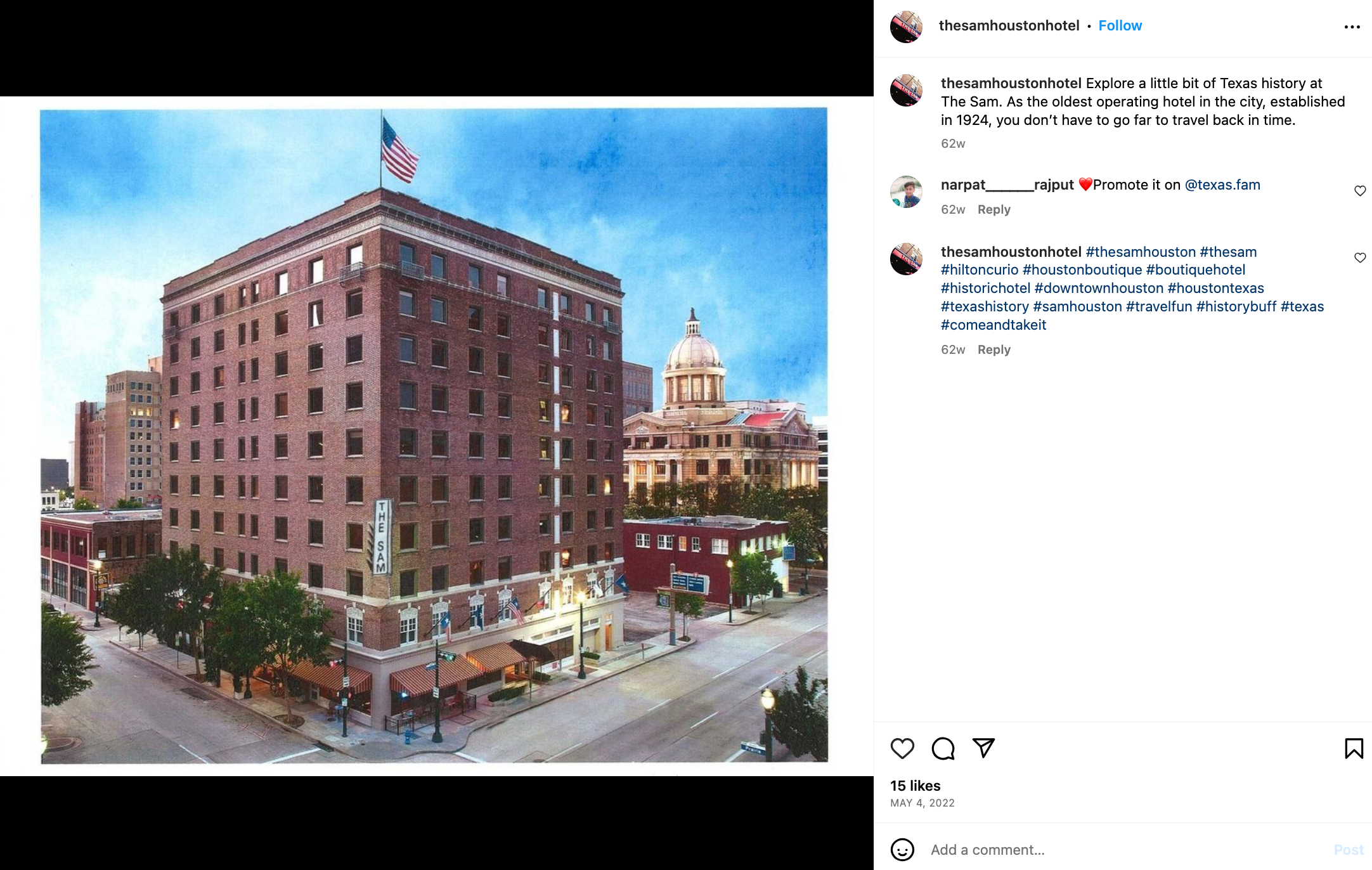 Part of the Curio Collection by Hilton, The Sam Houston Hotel is fourth on our list of historic hotels Houston offers to visitors. Another Art Deco icon, this hotel is listed on the National Register of Historic Places and honors the very first president of the Republic of Texas. According to the hotel's Instagram, the Sam Houston Hotel "city's oldest operating hotel."
The Sam Houston Hotel was originally designed by Sanguinet, Staats, Hedrick, & Gottlieb, but closed down in the late 20th century. It reopened in the early aughts as the Alden Hotel before changing hands once more. The Sam Houston name was restored shortly after the hotel was remodeled in 2013.
Learn more about the historic hotel here.
#5 La Colombe d'Or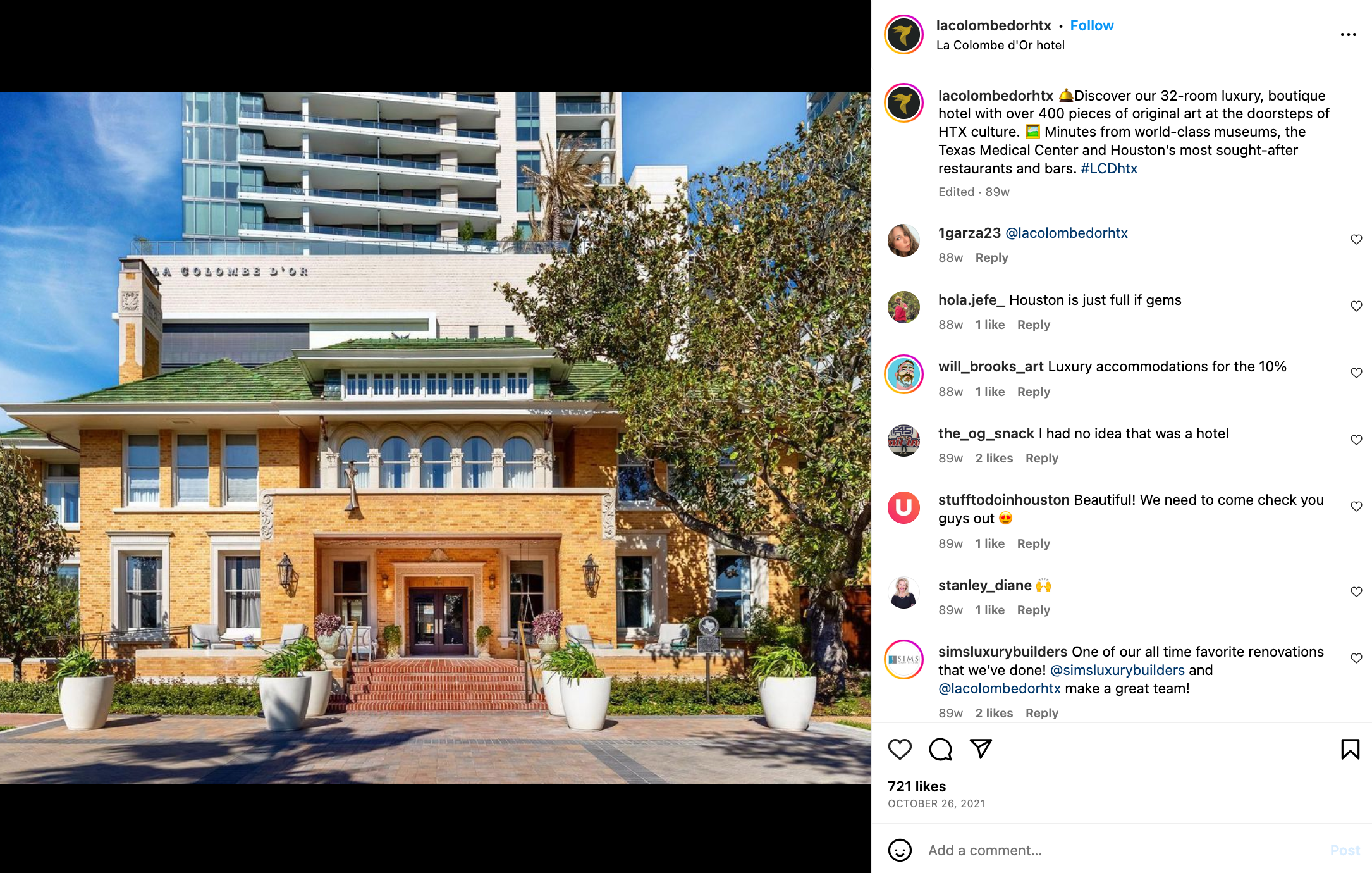 Fifth on our list is La Colombe d'Or — an elegant mansion that was later transformed into a boutique hotel, bistro, and art gallery near Houston's Museum and Theater Districts. First constructed in 1923, La Colombe d'Or became a hotel in 1980 under the patronage of Steve Zimmerman. Pictured above in a post by @lacolombedorhtx on Instagram is the entrance to La Colombe d'Or.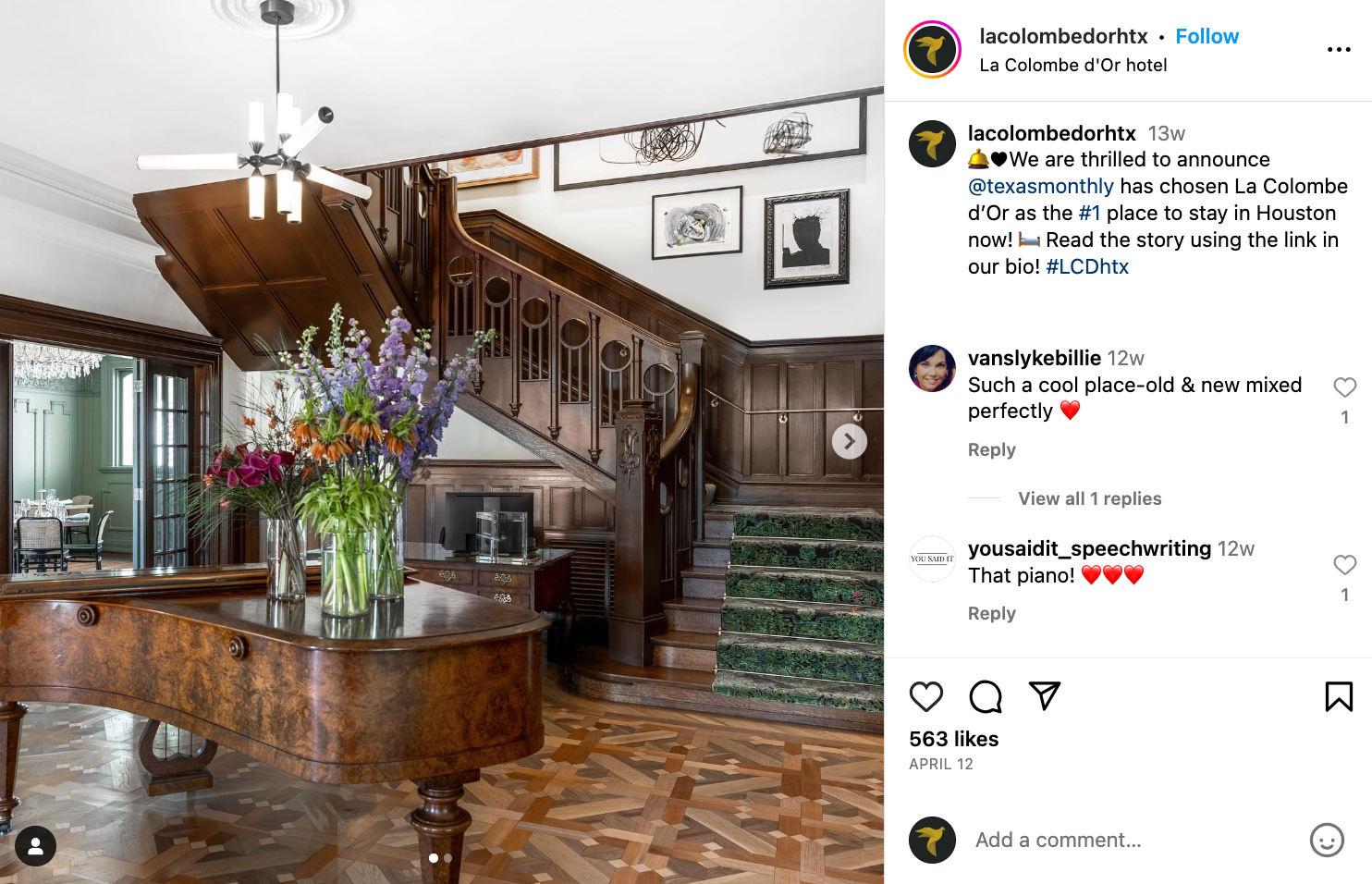 In an article for Texas Monthly, Alainna Wurfel writes that Zimmerman and his son carefully restored the mansion — fixing what they could and replacing what they couldn't with "period-appropriate details." Quoting son Dan Zimmerman, Wurfel writes that "'you can't rebuild this kind of character…it just has so much history.'"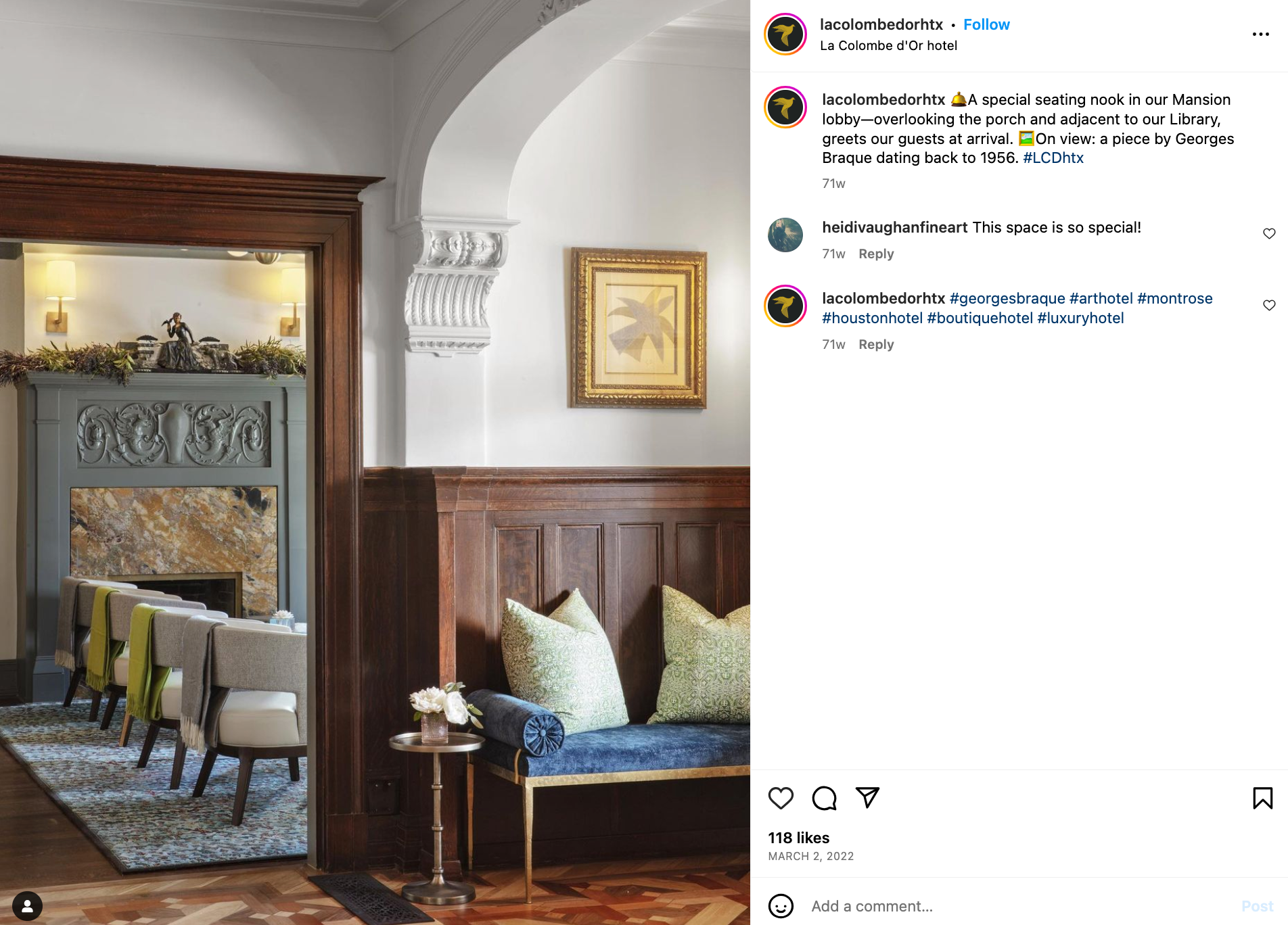 Houston's Rottet Studio renovated the hotel. With their expertise, the whimsy, charm, and delicate detailing of the Fondren Mansion's architecture were preserved. As shown in the posts by @lacolombedorhtx pictured above and below, many interior elements were also retained.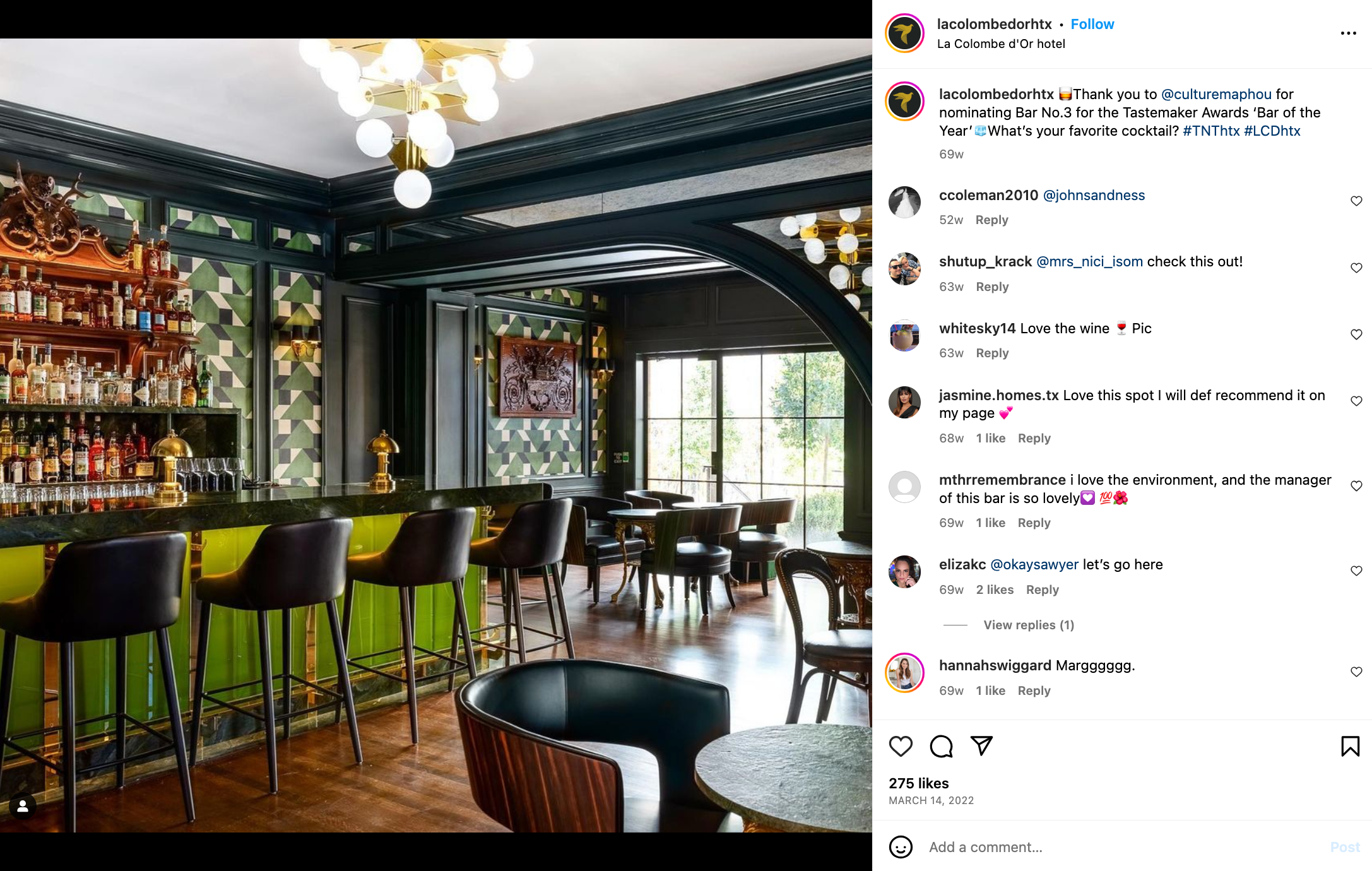 Several apartments were converted into suites, and their interiors were thoughtfully designed by local firm Gin Design Group — spearheaded by Gin Braverman. The hotel's interior combines early 20th century architectural accents, antique elements, modern art, contemporary silhouettes, and retro color palettes.
Learn more about the hotel here.
#6 The Whitehall Hotel

Lovers of Mid-Century Modern architecture and interiors might pop into The Whitehall Hotel. With its soaring spiral staircase, dramatic facade, original marble flooring, and period-appropriate furniture, the Whitehall is one of Houston's only mid-century modern hotels still in operation. Due to its relationship with Georgia's SCAD (Savannah College of Art and Design), The Whitehall also provides guests with a rotating collection of contemporary artwork.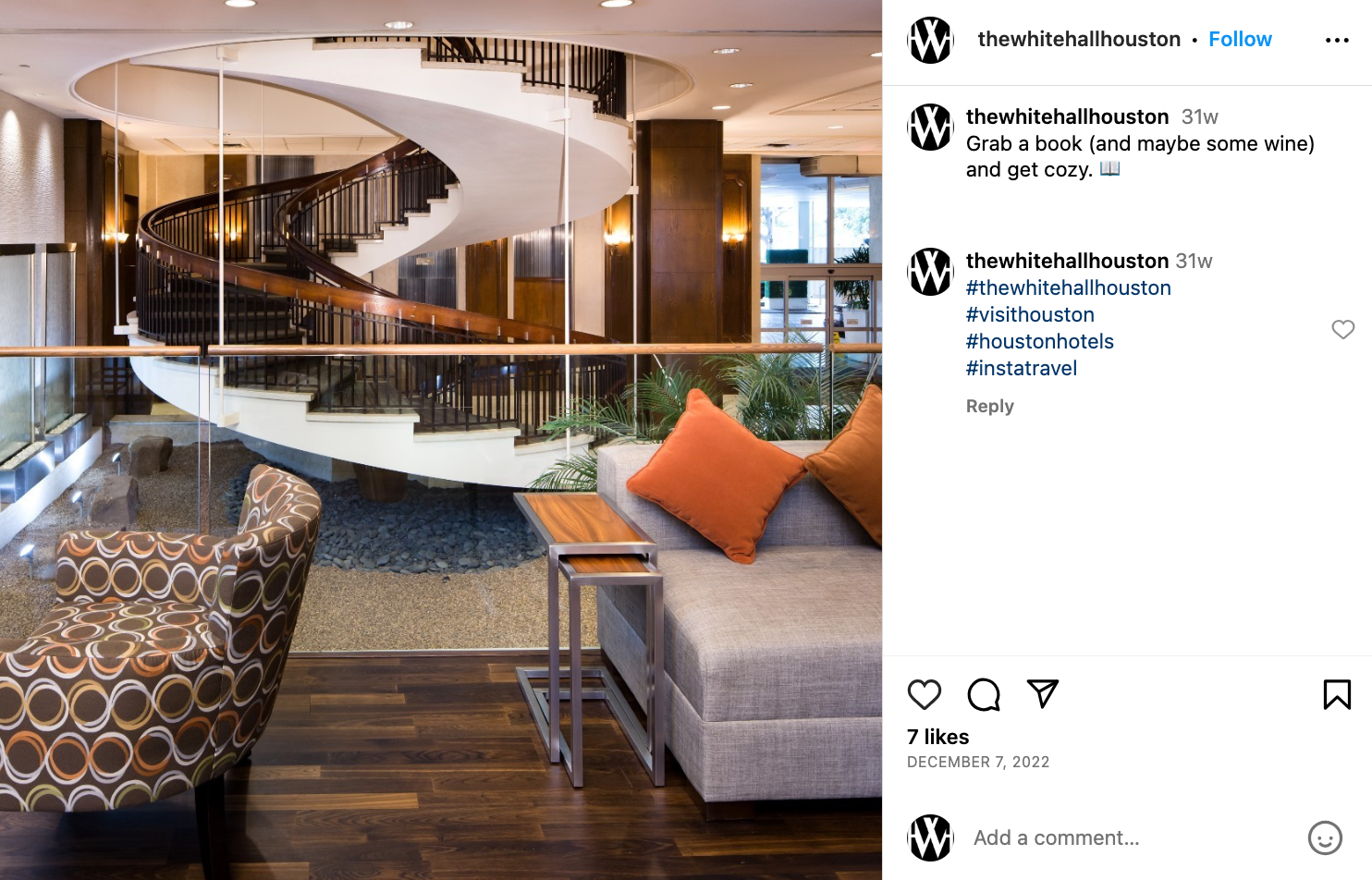 Now part of Sotherly's portfolio, The Whitehall first opened in 1963. The architecture, interior, and grounds were designed in total by Welton Becket and Associates — the principal architect of which was a prominent figure in Southern California's mid-century modern architecture. In Houston, Becket and his firm also designed the Sheraton Dallas Hotel, ExxonMobil Building, Hyatt Regency Hotel, and the Stanton Tower. Between opening in 1963 and winding down in the 1980s before closing shortly thereafter, the hotel hosted music icons like Elvis Presley and Bob Dylan.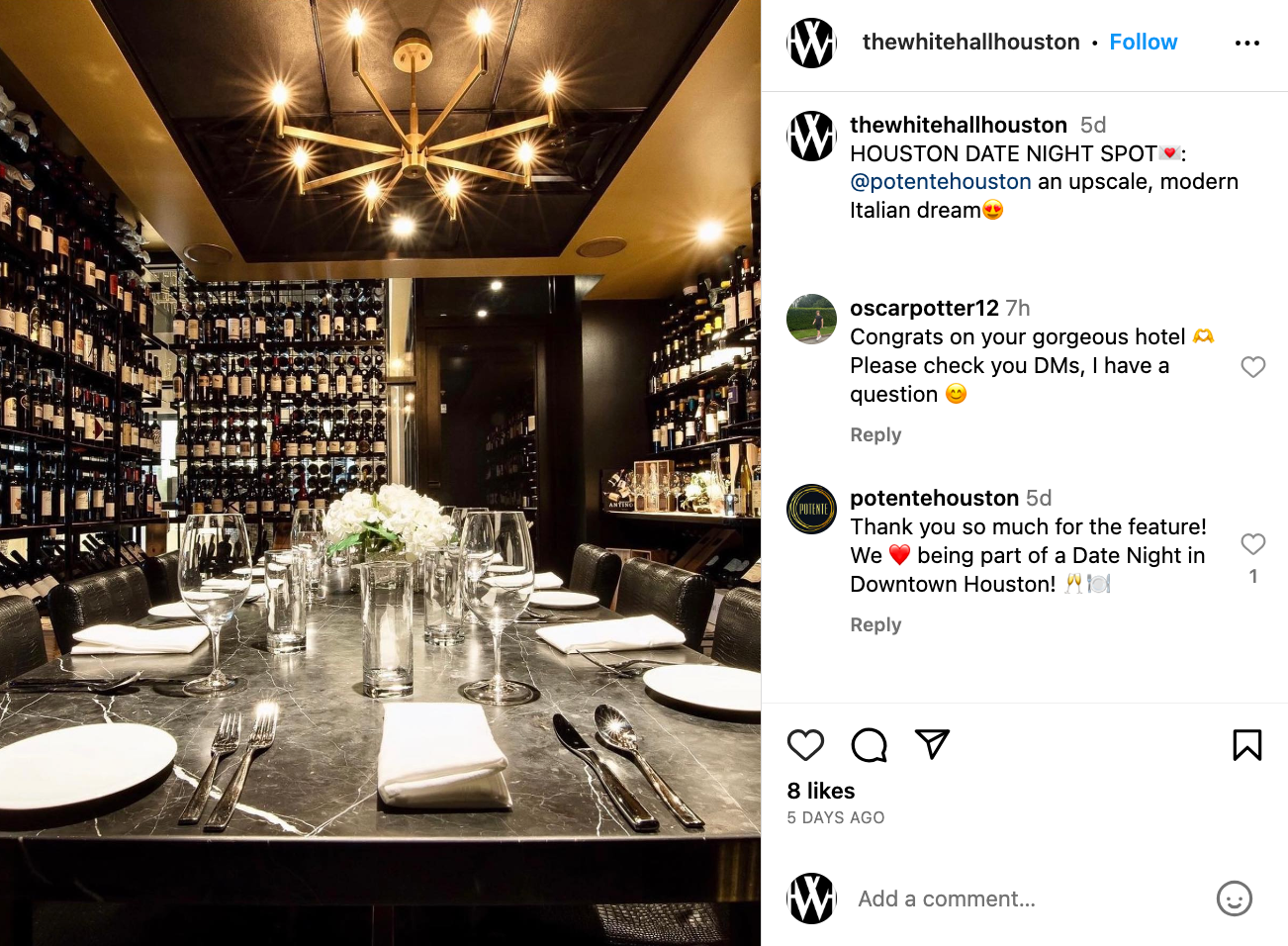 According to this profile from Historic Hotels of America, The Whitehall was later purchased by investors and "restored to its former glory." The hotel was renamed "Crowne Plaza Houston Downtown" until it joined other properties in Sotherly's portfolio and was further renovated. Since reopening, the hotel has hosted presidents and other important guests.
Though it is not on the National Register of Historic Places, the Whitehall Hotel is now recognized as a "historic hotel of America" by the National Trust for Historic Preservation. On Instagram, hotel management describes The Whitehall as "Modern. Southern. Like no other." Book a stay at the Downtown Houston hotel, learn more about its history, or drop by to enjoy its stunning architecture and interior here.
Where Would You Stay?
Which historic location caught your eye? Where would you stay? Let us know in the comments below!
With design icons like Verner Panton, Moshe Safdie, and Athena Calderone constantly on our minds, the team at LUDC loves to celebrate incredible architects and designers. This list of historic Houston hotels honors just a few, but stay tuned for future posts about incredible designers who have influenced our team and continue to inspire us daily!