As we note in our recent historic homes series, modern interpretations of Neoclassical interior design and architecture are all over Houston. Prizing symmetry, simplicity, and sophistication above all else, this style pulls inspiration from timeless Greek and Roman influences. In the US, it was popularized by architects who tied the style to early American ideals. Whether from the 18th century or the 21st, Neoclassical architecture boasts soaring columns, grand entryways, and entire walls of windows. Neoclassical interior design pairs organic color palettes with sophisticated silhouettes, intriguing textures, and lots of natural light. Read on to learn all about Neoclassical interior design and architecture in Houston and beyond.
What is Neoclassical Interior Design and Architecture?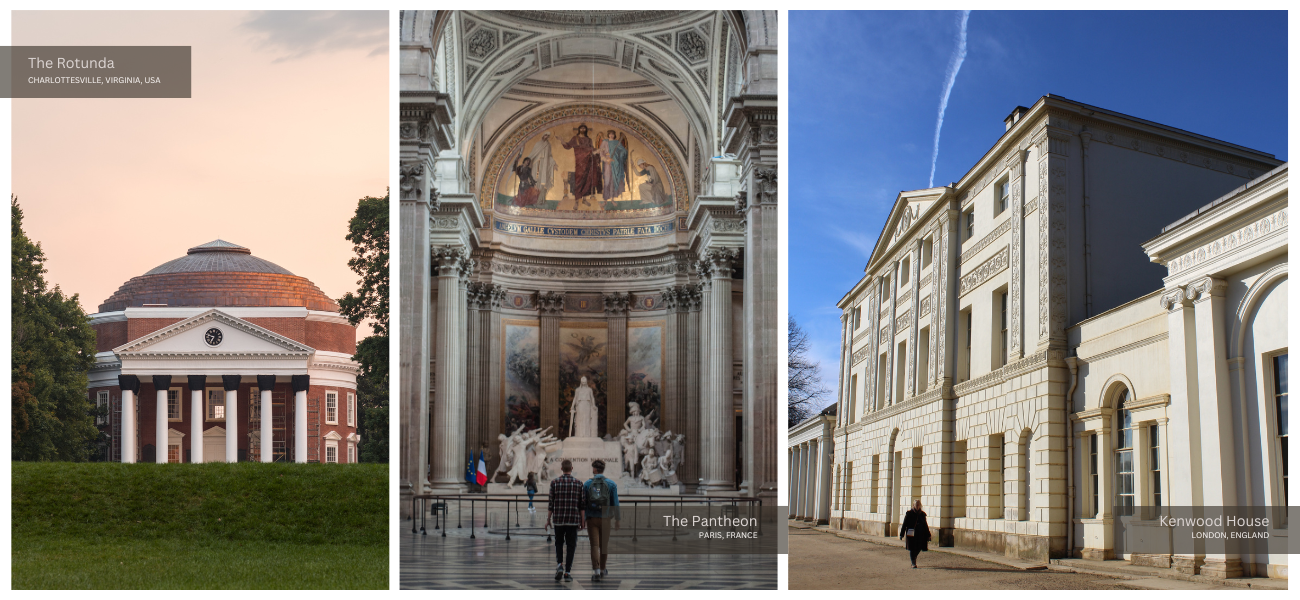 Neoclassical interior design and architecture emerged in the mid-18th century, with many European designers embracing the aesthetic. However, it was in the late 18th and early 19th centuries that Neoclassicism truly took off in America.
In the US, this period coincided with the founding of the country and the desire to create a new national identity based on classical ideals. Architects like Thomas Jefferson and Benjamin Latrobe expressed these values through their Neoclassical designs.
Aesthetically, the Neoclassical movement was a reaction against the ornate and elaborate designs of the Rococo period that preceded it. Neoclassical interior design prizes simplicity, clean lines, and a restrained color palette. Through these elements, Neoclassical designers create timeless interiors that retain their appeal no matter the decade.
The timeless elegance of Neoclassical design accounts for its popularity in the 21st century. Today, contemporary interpretations of Neoclassical interior design and architecture blend seamlessly with the clean, minimalistic aesthetic many modern Americans enjoy.
Still, the Neoclassical style sets itself apart. With organic elements, rich textures, and antique touches, today's Neoclassical interiors are warm and inviting in a way that few minimalistic interiors ever are. Its characteristics are incorporated in many other design styles. Transitional interior design — which strikes a stunning balance between modern and traditional — repeatedly takes inspiration from Neoclassical design.
Characteristics of Today's Neoclassical Interiors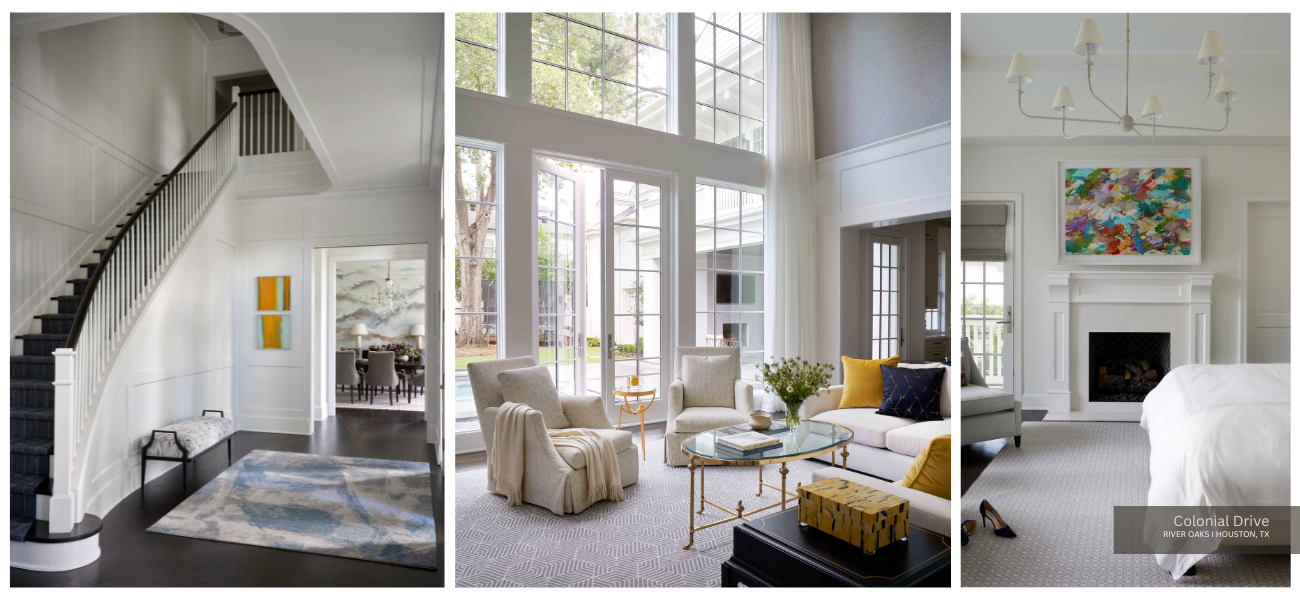 Neoclassical spaces are typically light, airy, well-balanced, and spacious. They are minimally furnished and sparingly — but thoughtfully — decorated. Designers usually opt for neutral colors and jewel tones, emphasize vertical lines, incorporate geometric shapes, and use natural materials throughout.
Another important principle of neoclassical design is symmetry. As such, many of the decorative elements featured throughout each space are selected to reinforce that sense of order and structure established by the home's architecture.
With respect to color schemes, neoclassical interiors tend to favor muted shades like cream, white, and soft yellow as a base. Colorful accents are typically organic. For example, jewel tones like sapphire blue, emerald green, and citrine yellow are popular. Gold and silver accents are also commonly used to add a touch of luxury to a Neoclassical interior while pulling from the style's historical roots.
As for lighting, Neoclassical interiors tend to favor natural light whenever possible. Large windows allow plenty of sunlight to flood the room, while strategically-placed lamps and sconces provide additional illumination as needed.
Hallmarks of a Modern Neoclassical Decorating Style
Neoclassical style furniture is typically classic and timeless. Silhouettes boast clean lines while upholstery features simple patterns to create an effortless elegance in each space.
Decorative elements like columns, marble accents, and chandeliers can add luxurious touches without being overly ornate. Streamlined decorative motifs that recall the style's origins remind us of ancient Greek and Roman architecture without appearing too kitschy. These classical motifs might be found in medallions and molding.
While color palettes tend to be neutral, designers often choose to connect interior and exterior spaces with touches of gold and rich, organic colors like green and blue. In some Neoclassical interiors, one might find wallpaper with geometric or floral patterns, antique bronze or polished brass hardware,
Key Elements of Modern Neoclassical Architecture
View this post on Instagram
Neoclassical architecture is a style that has been around for centuries and continues to be popular today. Neo-classical architecture is revered for its restraint, simple geometry, and dramatic juxtapositions of positive and negative space through the use of wide porticos and soaring columns. Symmetry and balanced proportions add to the easy elegance of Neoclassical buildings.
In terms of architectural details, Neoclassical homes often feature fixed elements like columns and pilasters. Whether decorative or supportive, these exterior elements imbue each Neoclassical home with a sense of grandeur. By framing the front door, these columns create an impactful entryway. That entryway typically leads to a foyer with a stunning staircase front and center.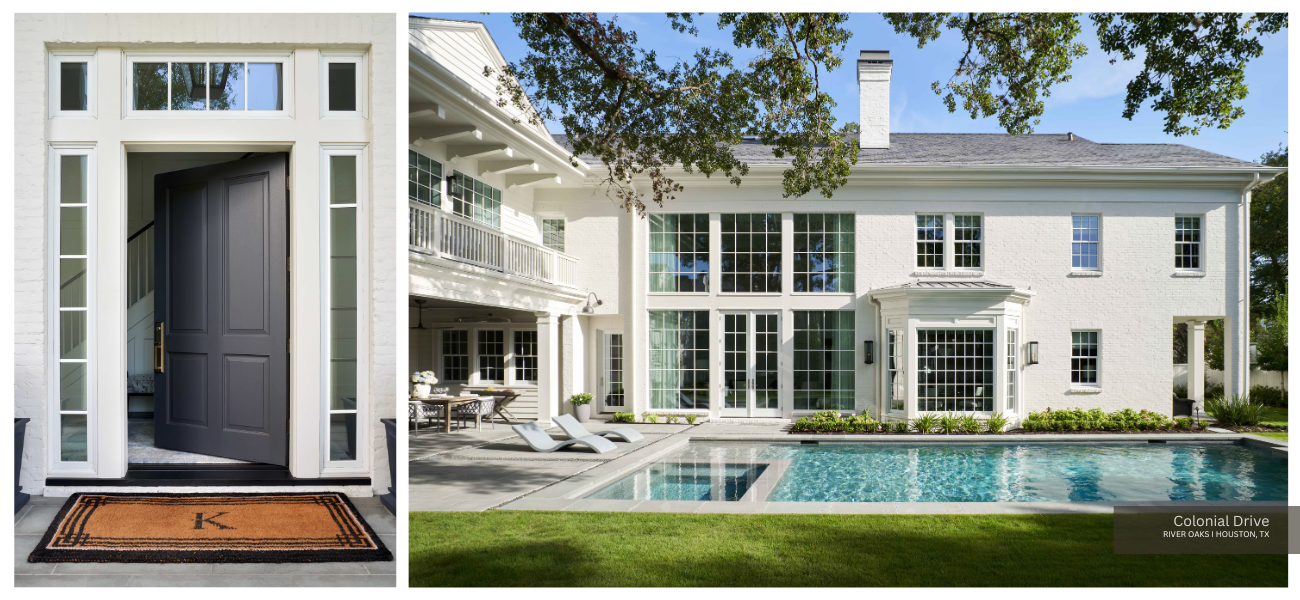 Their austere facades make Neoclassical homes feel distinctly modern without taking away from their timeless charm. This combination of modernity and timelessness makes Neoclassical buildings adaptable to many different interior design styles — including minimalist, transitional, and more.
Overall, Neoclassical architecture values simplicity, elegance, and refinement above all else.
Modern Interpretations of Neoclassical Style Interior Design & Architecture
#1 Remodeled French Neoclassical from the 1960s
First on our list of three spaces that embody modern Neoclassical interior design is the 1960 French Neoclassical house pictured above. Thanks to @archdigest for posting this to Instagram! As aforementioned, Neoclassical design is less elaborate and aggressively decorated than earlier Rococo styles. Remodeled by Christos Prevezanos of Studio Preveza, the home pictured above swapped all of its gilded glamour for a more true-to-form palette of soft neutrals commonly found in Neoclassical spaces.
Ornate furniture and light fixtures were replaced with more simplified forms and geometric shapes. With decorative pilasters, a sleek dado, and a carved relief sculpture, the entryway is grand but far more understated than it was before the renovation.
As Catherine Hong writes in an article for Architectural Digest, "the house simply felt weighed down by an excess of decoration: faux antiquing on the moldings, heavy drapery, Louis-esque crystal chandeliers." In fact, the entire remodel "was an exercise in subtraction."
Inside, high ceilings and large windows make each space feel airy and bright. The dining room features a slightly patinated floral wallpaper that is original to the home. Outside, the backyard's portico boasts a series of classical columns with ionic capitals.
#2 The Goldwyn House Reinterpreted for Gallerist David Alhadeff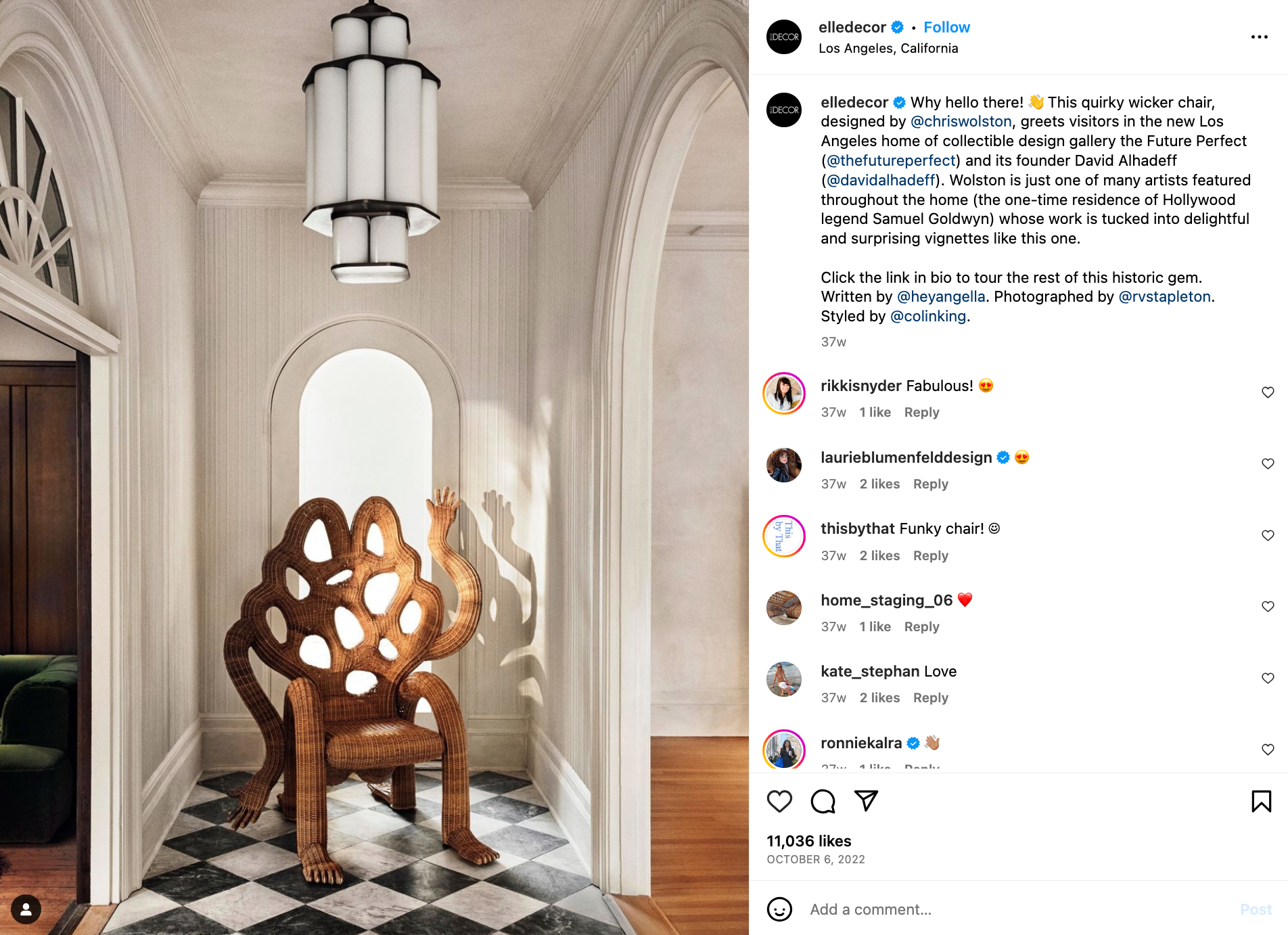 The Goldwyn House — initially designed by architect Arthur S. Heineman and his brother Alfred — underwent a complete transformation last year. This Beaux-Arts Neoclassical home in Los Angeles is now a direct cross between a grand Old Hollywood mansion and a whimsical contemporary art gallery.
Yet the home retains many of its original Neoclassical design elements. As owner David Alhadeff tells Angella D'Avignon in her article for Elle Decor, they "'stripped it back, found the original elements, and brought those back to life.'"
For example, the geometric pattern of the black and white marble floor, the grand staircase, the wall molding, and the plaster finish are all Neoclassical in nature. The architectural elements of the home's facade, a traditionally manicured gardens, and the arched windows also recall the spirit imbued by Arthur and Alfred Heineman.
Inside, other decorative elements include plaster medallions along the frieze in one well-lit gallery space and a curved ceiling in the dining room. Many of the furnishings recall Neoclassical furniture too, with sloping silhouettes and satin upholstery.
Thanks to @elledecor for posting this to Instagram!
#3 Elegant and Inviting Neoclassical at Colonial Drive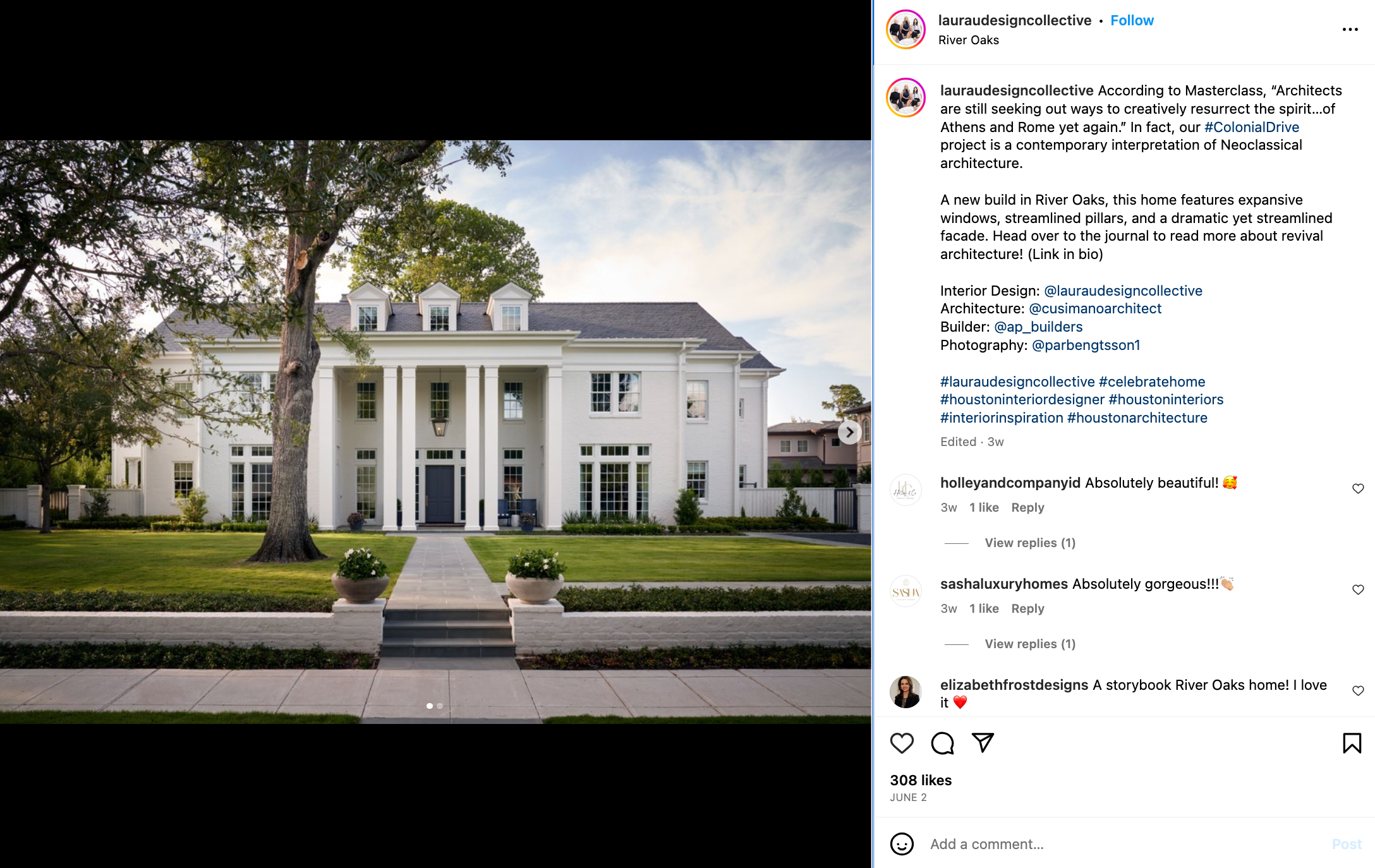 Last but not least is Colonial Drive — LUDC and AP Builders' interpretation of Neoclassical architecture and interior design found in Houston's River Oaks neighborhood. Sleek yet grand, inspired by history yet distinctly modern, the exterior of this rebuilt home is quintessentially Neoclassical with a couple twists here and there. The portico beautifully frames this home's entryway, which features custom built-ins and a stunning staircase just past the front door.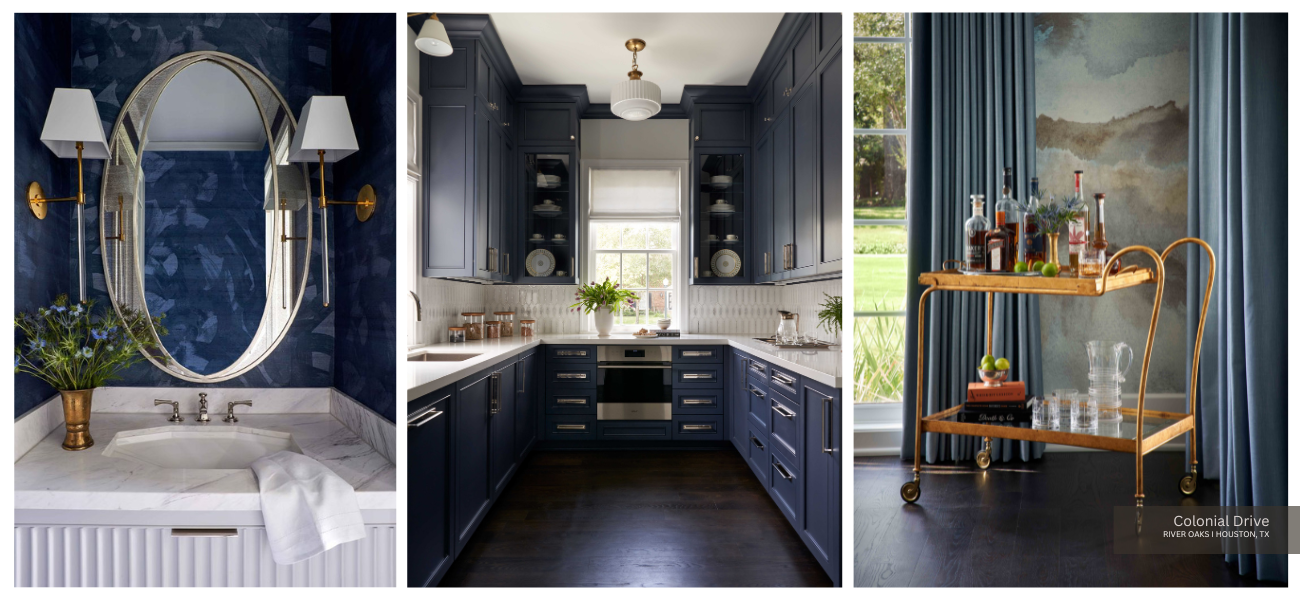 Colonial Drive's interior boasts a cool-toned palette of dark and pale grays as well as navy, sapphire and powder blues. Our team paired these cooler colors with pops of marigold, lilac and Kelly green. Accents of maple, blush, cream and antique brass warm-up the space. The colorful yet slightly subdued palette gently recalls the Georgian and Colonial Revival interiors that inspired River Oaks' original architects.
Neoclassical details can be found throughout. From soaring windows and elegant millwork in the family room to a pendant light in the butler's pantry that recalls Neoclassical ceiling medallions, each space evokes that Neoclassical interior design style we love. In the powder bath, the vanity's fluted details mesh perfectly with the modern Neoclassical architecture of this home.
Explore Colonial Drive in our home tour here. Follow us on Instagram for more like this!