As we approach the dog days of summer, many of us are finalizing plans for Labor Day weekend and squeezing in a few more weeks of fun. For some, this means one last trip to their beach house, lakeside cottage, mountain cabin, or desert dwelling. Whether your vacation home sits atop a mountain in the Rockies, in the desert of Palm Springs, or in a seaside town in Mexico, you likely visit just a few times each year. In the off seasons, your vacation home either awaits your return — vacant and shuttered — or functions as a vacation rental. Regardless, most property owners want their second homes and vacation rentals to be beautiful, functional, and low-maintenance. The perfect vacation home is easy to enjoy when you are there and requires minimal upkeep while you are away. Of course, the ways in which you approach decorating a vacation home will depend on whether you plan to use it personally or as a rental property. In this post, we consider both. Read on to learn the do's and don'ts of decorating a vacation home.
Vacation Home Interior Design: How to Create a Versatile, Low-Maintenance Vacation Home You Absolutely Love
From reflecting its surroundings to investing in smart home tech, we list ten of our top tips for decorating a vacation home below. A well-executed vacation home strikes the perfect balance between private and public spaces. In the ideal vacation home, bedrooms are intimate, living spaces are multifunctional, and outdoor areas are accessible by all.
No matter your design aesthetic, each vacation property must focus on function above all else. All spaces should be well-lit and carefully arranged to ensure guests can navigate and enjoy them easily. Materials should be visually impactful and gorgeously textured but quick to clean and resistant to damage. Let's delve a bit deeper.
#1 Embrace the Location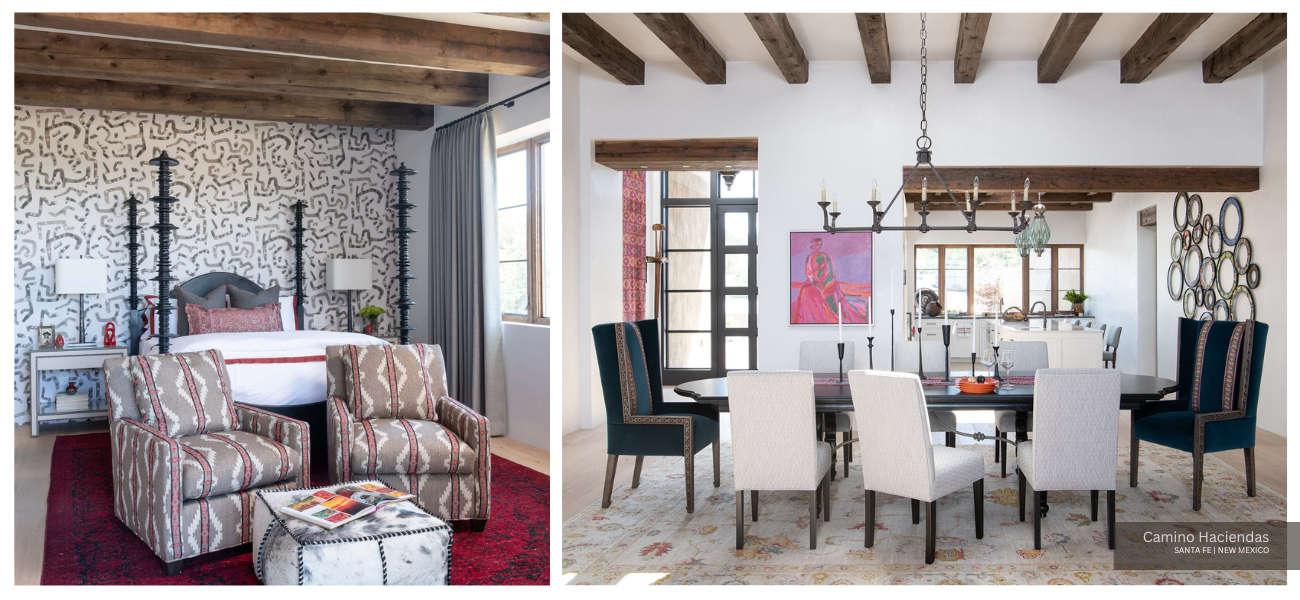 Reference the natural beauty of your vacation home's surroundings like we did in our Camino Haciendas project in Santa Fe, New Mexico. Embracing the local culture and aesthetics can enhance the sense of immersion and make your vacation home feel like a true getaway. Source coffee table books about local photographers, museums, and historical events.
Find vintage textiles made in the area, hang art by local creators, and choose materials that connect your home to the great outdoors. If your home functions as a vacation rental property, these special references to the town or environment can give shape to the special memories your guests create.
When infusing its interior design with the history and environment that surrounds your vacation property, take care to avoid a literal interpretation of those elements. Let the colors of the desert sunset, alpine forest, or crashing waves inspire your home's palette, but replace obvious pairings with subtle allusions.
For example, consider a moody abstract painting with blues and grays, metallic accents that catch the light and shimmer like the sea, or a sculptural chandelier that adds dynamism to your dining room. These elements honor the coastal town to which your vacation rental belongs, but leave all the kitschy, common-place references behind.
#2 Limit Clutter to Keep it Clean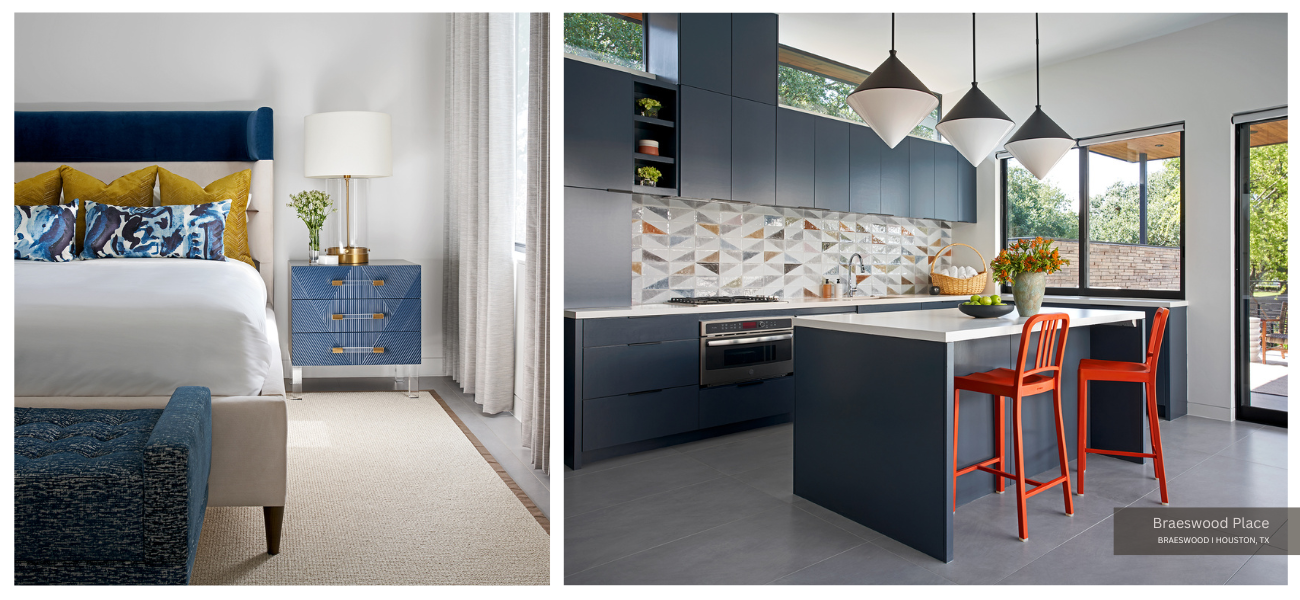 Vacation homes and short-term rentals tend to be more sparsely decorated than primary residences. Dusting lots of furniture, cleaning tons of decorative objects, and caring for expansive art collections simply isn't feasible when you live far away from your vacation home.
Similarly, the cost of cleaning an intricately decorated short term rental can be untenable. Too many furnishings and too much decor can also take away from the guest experience. Furniture crowded too closely together can make maneuvering throughout the home a bit difficult.
Instead of making guests feel relaxed and intrigued, an abundance of delicate decor can stress visitors who might knock one over with a suitcase or umbrella. Your vacation home should be appropriately furnished, but it should not be cluttered.
#3 Opt for Durable Indoor and Outdoor Furniture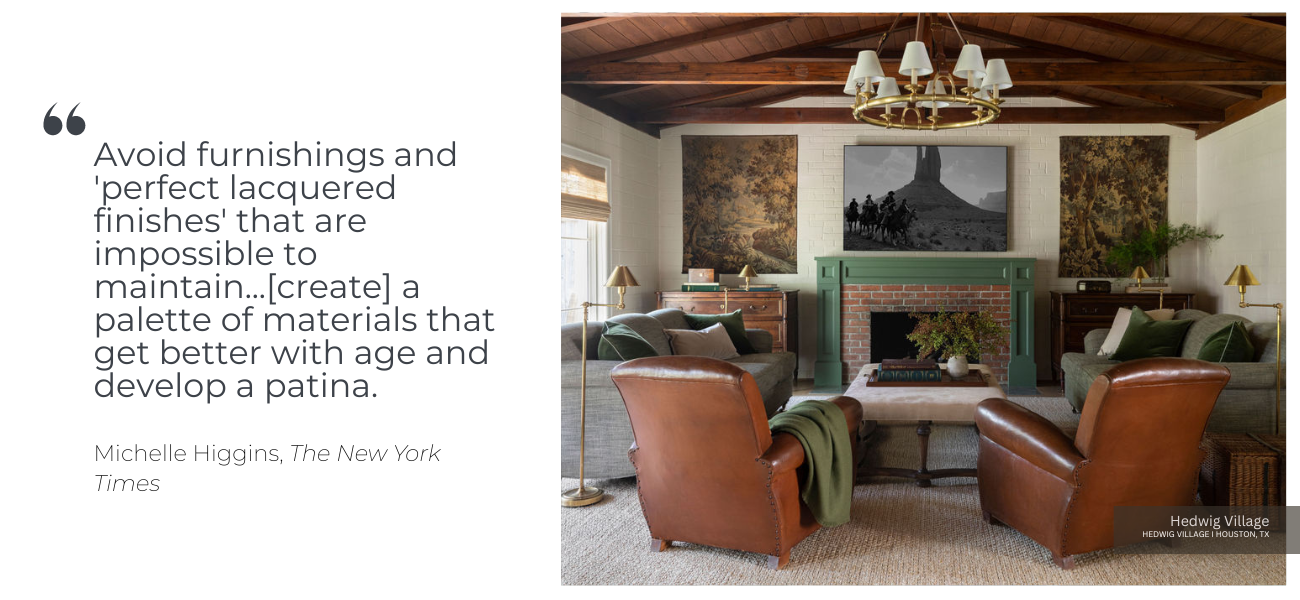 For a low-maintenance vacation rental design, select durable indoor and outdoor furniture that stands up to saltwater, intense UV rays, melting snow, and other extreme weather conditions. Indoors, invest in comfortable yet durable furniture that encourages relaxation and lasts through many years of use.
In shared living spaces, upholster cozy sofas in performance fabrics. With guests running in from the beach or the slopes, be sure to choose durable materials for furniture, flooring, and fabrics. For the bedrooms, select black-out curtains and high-quality mattresses to ensure you and your guests enjoy a comfortable stay. Consider vintage and antique furniture that already have a bit of wear but are still in safe, functional condition.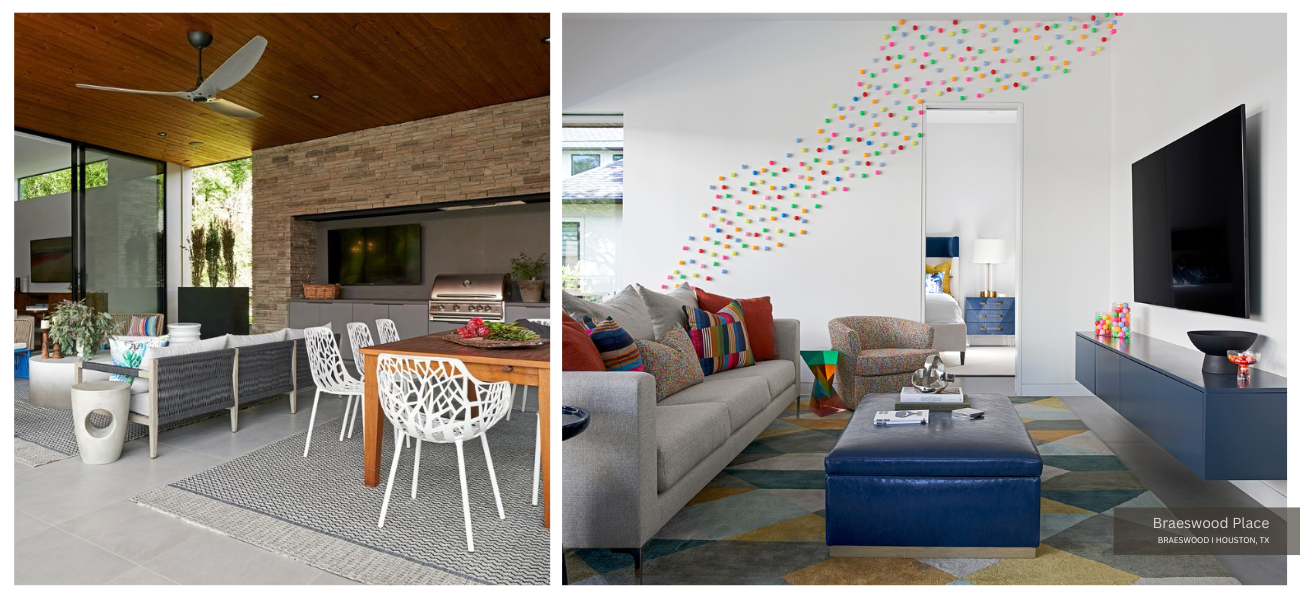 Outside, opt for outdoor furniture made from weather-resistant materials like aluminum, teak, or resin wicker. Choose outdoor fabrics that are UV-resistant and quick-drying. To best protect the interior and exterior of your vacation home, seek interior design expertise from a local firm who understands the weather conditions that might affect it.
#4 Invest in Customized Storage Solutions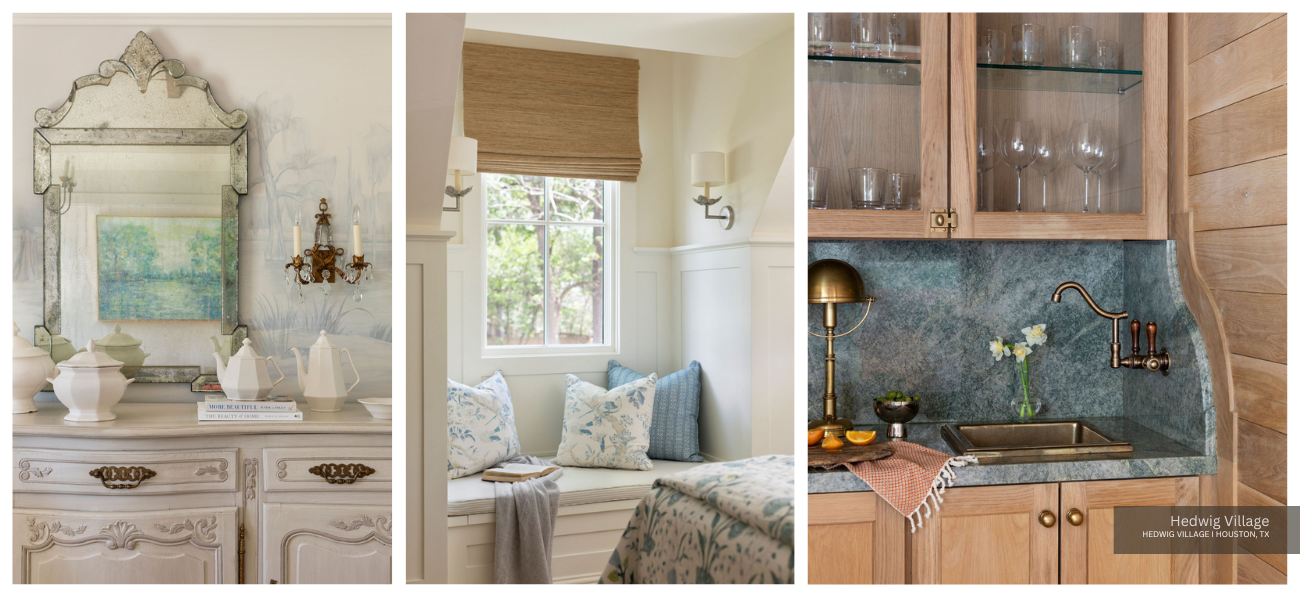 Storage solutions are essential for keeping a vacation home organized and clutter-free. Depending on the size and layout of your vacation home, you might be able to incorporate hidden under-stair storage, a mudroom with lockers, and built-in cabinetry. Consider folding luggage racks, under-bed storage, and furniture with built-in storage to keep clutter out of sight and out of mind.
If your vacation home is located in an area with high humidity, consider alternatives to natural fiber baskets, boxes, and other storage containers that might mold. According to this resource from multinational cleaning service company Merry Maids, because they are "often only lighted stained or sealed, it's fairly common to have mold growth on wicker baskets." The crevices in a woven basket can also be difficult to clean. Again, selecting durable materials that do not crack when exposed to significant temperature swings, fade when exposed to intense sunlight, or mold when exposed to moisture is key.
If you use your second home as a vacation rental, install locks on the closets in your primary bedroom or the gear garage downstairs. Add a clothing rack to bedrooms in which you have locked cabinets and closets to ensure guests are accommodated.
#5 Create a Versatile Outdoor Living Area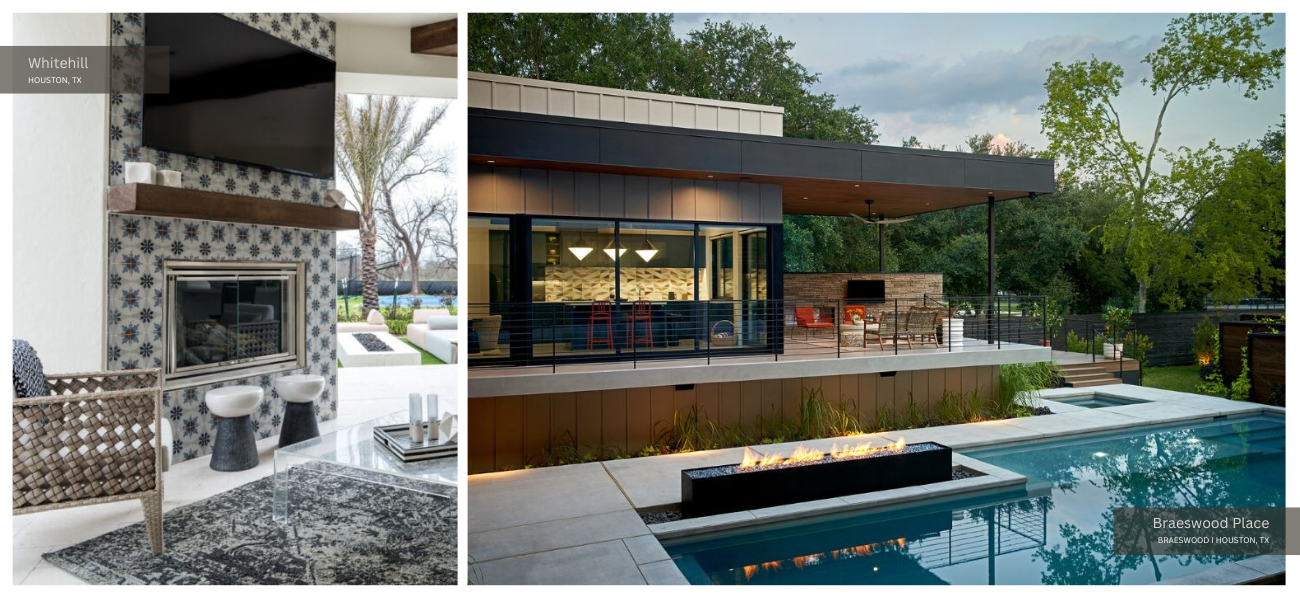 Extend your indoor living space beyond the walls of your second home or vacation rental with an inviting outdoor area. Work with an interior designer, landscape architect, or residential design firm to create a fun and functional outdoor kitchen, bar, or dining space.
Add a bocce ball court, fire pit, or walkable garden to encourage your guests to engage with the great outdoors. If you use your vacation home in the summer and winter or rent it out all year round, check out this post on the Journal for a comprehensive list of outdoor entertaining tips.
#6 Develop Low-Maintenance Landscaping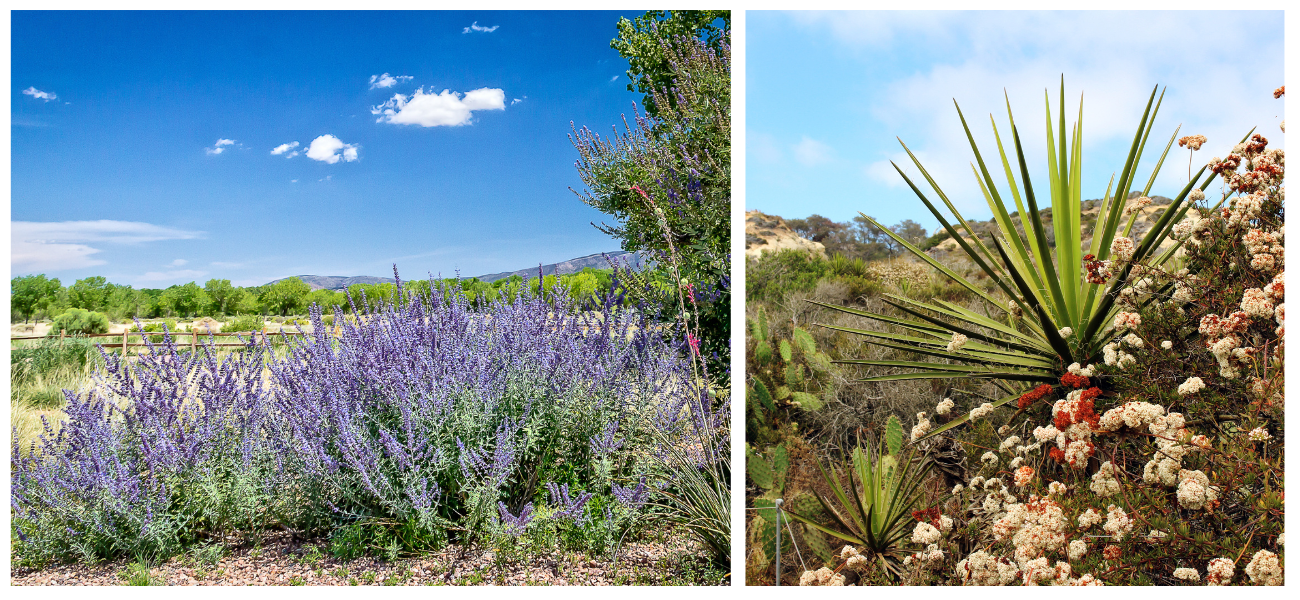 While building a deck or assembling an outdoor kitchen, take a second look at your vacation home's landscaping. As homeowners and investors, we often focus on our second property or vacation rental's interior design but treat landscaping like an afterthought.
However, the exterior and surroundings of your home are absolutely crucial to preserving its interior condition. Reducing the amount of time you spend watering and the money you spend caretaking, native landscaping is key to a low-maintenance vacation home. Native landscaping can also help protect your home and surrounding land from storm surges, wildfires, and other disasters you might not be around to mitigate.
Work with a local landscaper or gardener to select native plants that are well-adapted to your specific environment. Consult your landscaper to determine which hardscape and softscape elements make the most sense for your region. For example, a layer of mulch might make sense in a drought-stricken region as it helps plants retain moisture in the soil, suppresses weed growth, and reduces the need for frequent watering and weeding.
In areas with frequent rain or snow, paving paths and driveways with permeable hardscaping materials allow precipitation to infiltrate the soil instead of running off. This reduces the need for drainage management.
#7 Choose Durable Exterior Finishes That Reflect the Local Landscape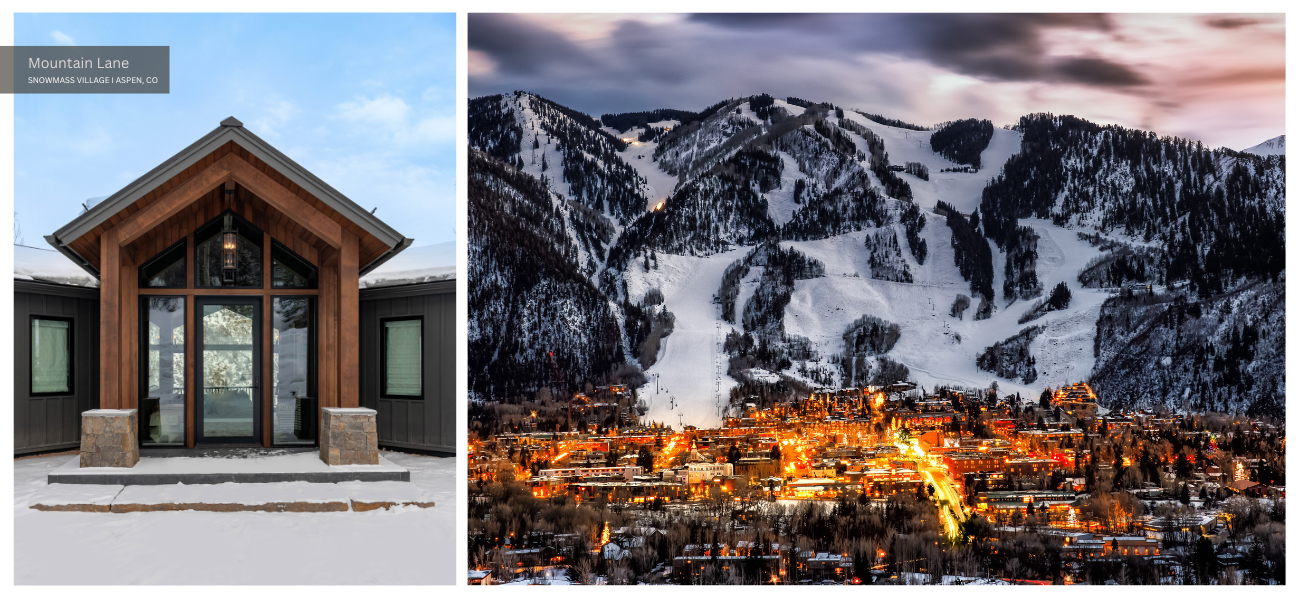 In addition to low-maintenance landscaping, install gutter guards to prevent debris from clogging gutters and inflicting water damage upon your home's roof or siding. Choose durable exterior finishes such as stone, brick, metal siding, or fiber cement.
These materials can withstand the harsh weather conditions in the mountains, sea spray along the coast, and intense sun in the desert. They require less upkeep over time, which is essential for a seasonal home.
#8 Invest in Smart Home Tech for Comfort and Security
Consider home automation to keep a watchful eye on your vacation property from afar. Incorporate smart home technology to monitor the security of your property and control the home's systems remotely. Smart thermostats and leak detectors can help detect issues early — preventing disaster and saving on utility costs.
A smart thermostat can also keep the interior of the home cool during summer and warm during the winter — preventing pipes from freezing, paint from peeling, and so much more. Outside, a smart irrigation system can automate landscaping maintenance.
#9 Select Luxury Hotel Bedding for a True Getaway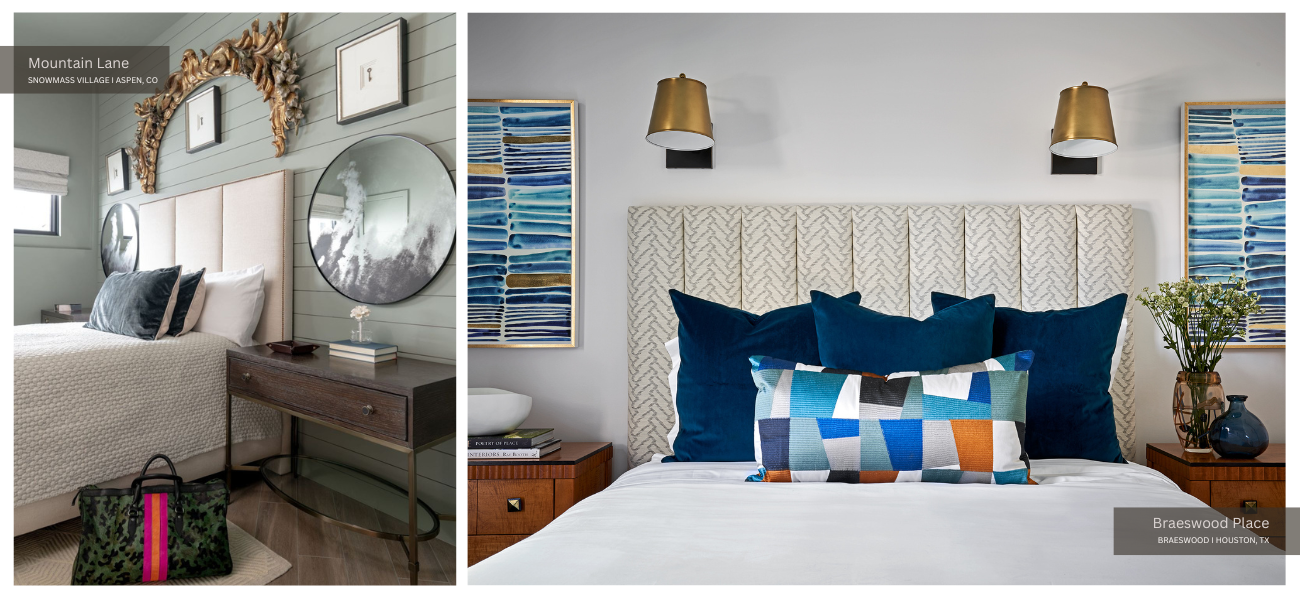 Whether your second home is but an hour drive or a fifteen hour flight from your primary residence, hotel bedding makes every excursion feel like a dream vacation. Luxury bedding is typically crafted from high-quality materials like Egyptian cotton, silk, and other high-thread-count fabrics. These materials are usually more comfortable, breathable, hypoallergenic, and protective for delicate skin or hair.
Perfect for seaside resorts and cozy alpine lodges, luxury bedding materials like silk also have natural temperature-regulating properties. Enjoy improved sleep quality and a more elegant interior you and your guests will surely appreciate. If using your home as a short term rental, consider monochromatic linens that can all be washed at once in warm or hot water. Add color, texture, and personality with quilts and throws placed at the foot of the bed.
#10 Consider an Open-Concept Living Space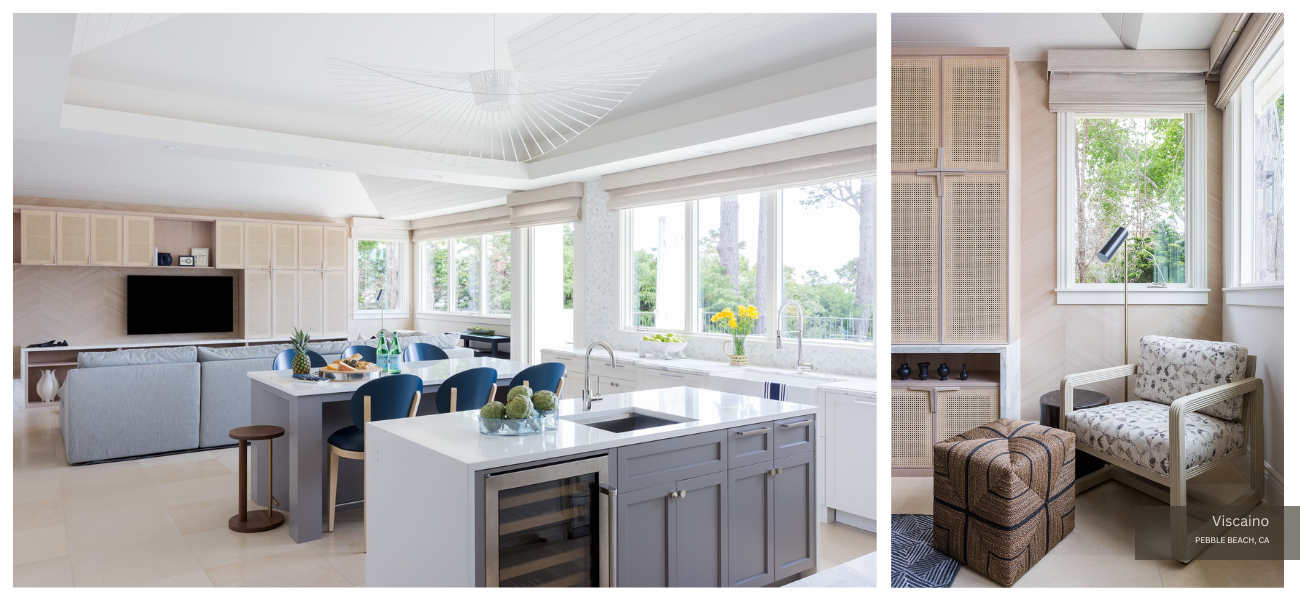 You might use your second home to entertain colleagues, enjoy a weekend away with your spouse, host family reunions, or spend time with your kids and their friends. It might function as a short-term rental during the winter and a multigenerational family home during the summer. Chances are that your vacation rental or second home serves a number of different purposes.
As such, a versatile, open-concept living space likely makes the most sense. Embrace multifunctional furniture and create different zones in your vacation rental interior design. Work with a design firm to make the most of your space — no matter what shape or size.
What Are Your Vacation Home Must-Haves?
With a studio in Aspen, Colorado and design projects in covetable locales all across the United States, our team knows how to create elegant, inviting, and multifunctional vacation homes our clients absolutely love. Whether your second home is in need of an extensive renovation or a cosmetic update, learn more about our process here.