Good gracious, guys! February has come and gone in the blink of an eye. We've been hard at work with furnishings installs, photo shoots and making big progress on my own home – aka the Boulevard Show House. And speaking of the Show House, we now have our TruStile doors installed and the tile and hardwood floors are underway! All I can say is that I'm EXCITED!

Inspiration and creativity are everywhere in the studio. The design teams have been busy busy busy this month creating gorgeous designs for some super fun projects. We're looking forward to working with new clients, starting new projects and wrapping up some current ones.
So as we enter into March, I wanted to share some of the new pieces that have we have been obsessing over this past month.
Dorcia Daybed from Studio Twenty Seven
"I'm absolutely loving this daybed. It's sleek metal frame, unique seating configuration, and bolster seat backs are just a dream! I could definitely see myself sitting on this dreaming the day away…"
– Blair Foster, Interior Designer
Modular carpet by Kinder Modern
"I am in love with the modular carpet designs by Kinder Modern. A client just turned me on to these and it was an instant obsession. I'm dying to have them in the girls' new playroom – or any room really!"
– Laura Umansky, Creative Director
"This is such a fun find!
Coleen & Company
has the most adorable flush mount and semi-flush fixtures. They're feminine, modern and oh so whimsical. They would be perfect for a little girl's bathroom, dressing room or home office."
– Shenay Keyes, Interior Designer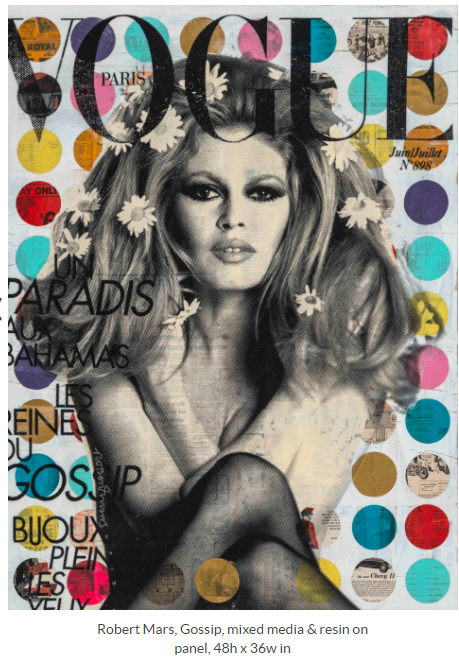 "I am currently obsessed with Robert Mars artwork. Robert Mars is represented by one of our favorite local galleries,
Laura Rathe
. My favorite piece is Gossip, a 48" x 36" mixed media piece of Brigitte Bardot."
– Shannon Smith, Senior Interior Designer
Spring calls for pretty colors and lots of fun. And this month was all about fun, colorful pieces that make the design feel whimsical and playful. I can definitely imagine one or two of these pieces in my house. I hope this month's finds have inspired you and have you ready for the arrival of spring!
For more design inspiration and to see more of our favorites, follow us on Instagram and Pinterest.